The Dakota Hunter tell us why….
We tried hard but the budget is too tight for the work still to be done, ha. Over the years, I have found "Dozens of Derelict Daks", most of them could be salvaged and found a good home. They were kept intact and are preserved as an "Icon of Victory" for decades and generations to come.
I will soon depart to Bayeux, Normandy / France during the week 2-10 June for the D-Day commemorations (6 June), a yearly pilgrimage that I do with my friends since 2004. So we know our way around but after all those years, we still run into unknown places and crash sites, every year again.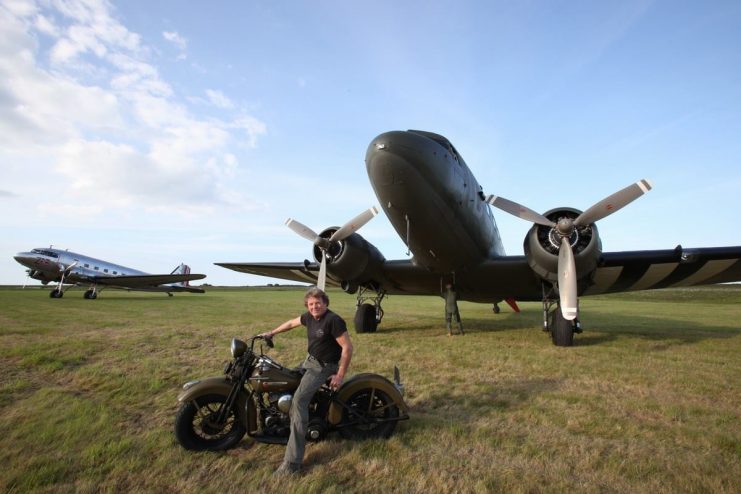 Normandy is so full of surprises, especially if you're willing to step away from the "Beaches-Only Tour". Fascinating were our visits to Lorient, where you'll find the fully intact Monster bunkers that housed the U-Boats and the "Falaise Pocket" with overwhelming views and scenic beauty in Middle-Age styled little villages as if you enter a film set.
This year is a total MUST, with the fly-in of 30+ C-47s/ DC-3s/ Dakotas from the USA and Europe to Caen Airport in Normandy. Remember, this will be the first and the last time you will ever see such fleet being airborne and dropping 200 paratroopers over the legendary Beaches!
If you plan to come over, we can eventually meet on Caen Airport on June 7th, where we will be for the day with our friends, watching all those legendary C-47s flying in and out, Oh what a day will that be! Check out the official website for tickets for entry and flights at www.daksovernormandy.com
I will bring along 4x C-47 fuel tanks, they are available for anybody willing to do something with them (see photo nr 3) and a Hamilton Standard C-47 Propeller set with a hub (see photo 4) ready for a wall mounting/ interior display!
The tanks are for grabs, the Prop set is for sale for the best offer as that one is a much-wanted Collector's Item.
A C-47 that was downed by the German war effort? Yes, 65 years after the war, she crashed against a piece of Atlantic Wall left-over, that was in Sept.2010!. How could that happen? Well, long story short, here we go:
They had the C-47 on a flatbed trailer on road transport with the central wing section/ engines hanging over the flatbed like outriggers. Upfront, all the fly-overs and bridges were checked for their width, except that final fly-over, made in wartime by the Germans from leftover Bunker Concrete stuff used for their Atlantik Wall construction.
The Germans had it recorded in the book incorrectly, it was 3 feet less wide than reality!. No one ever checked that and no harm was ever done until that C-47 came "flying in low", be it over the road on that trailer in Sept 2010.
Yecch, the LH engine/outrigger hit the central separation wall of the fly-over and sheared the wing section off from the fuselage, The truck came to a sudden halt, the driver unaware of what happened, was catapulted to the windscreen.
The airframe was completely wrecked ( see photo) and I bought it only for sentimental reasons, there was no way of any repair, so we sadly had no other option than to split the wreck into useful pieces.
The cockpit became the first Pro Flight Simulator in the world for DC-3 Pilots (FAA certified) The aluminum skin panels will soon be used for authentic "C-47 Relic Plates", screened with a couple of fab C-47 pictures, made by Dutch aviation artist Ronnie Oltshoorn.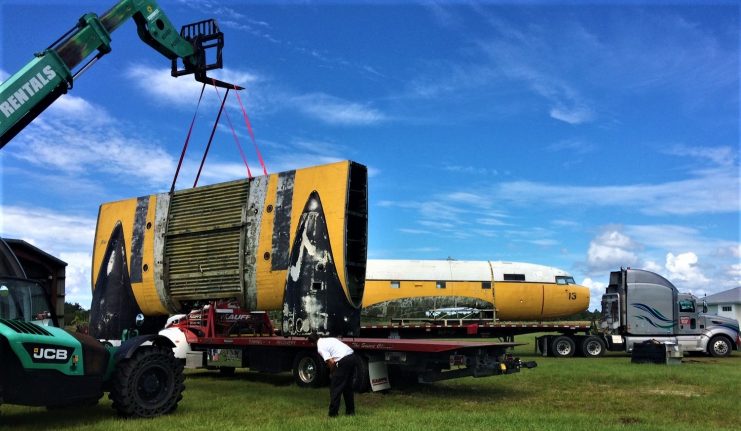 In the summer of 2018, we were busy to salvage a C-47 from a Florida swamp and get her on a trailer for transport over the road to a harbor and from there, a roll-on/ roll-off sea transport to Holland. We had learned from the previous transport.
That transport was not our job, but this time we knew for sure, always take the central wing section apart!. That is what you see in this photo, the central piece was hoisted on a separate trailer by the chief mechanic Jesse, leaving the fuselage "clean & lean" on the second trailer in the background.
There was another thing we noticed in that Florida swamp. In every derelict or wrecked DC-3 I ever found, the cockpit was mostly picked empty by the souvenir hunters. But this one was complete, in the state as was left after its last flight in 2004, that ended with an emergency landing on this tiny airstrip near Punta Gorda, FL. It was surrounded by boggy grounds and in a pond, just aside, there was a sign. Guess what it said: "Beware of the Alligator".
That kept all souvenir hunters out for all those years, Allie did a good job by just hanging around the airplane and giving a scare to all who tried to open the aircraft and suddenly were confronted with a gnawing serpent-like security guard of mean proportions!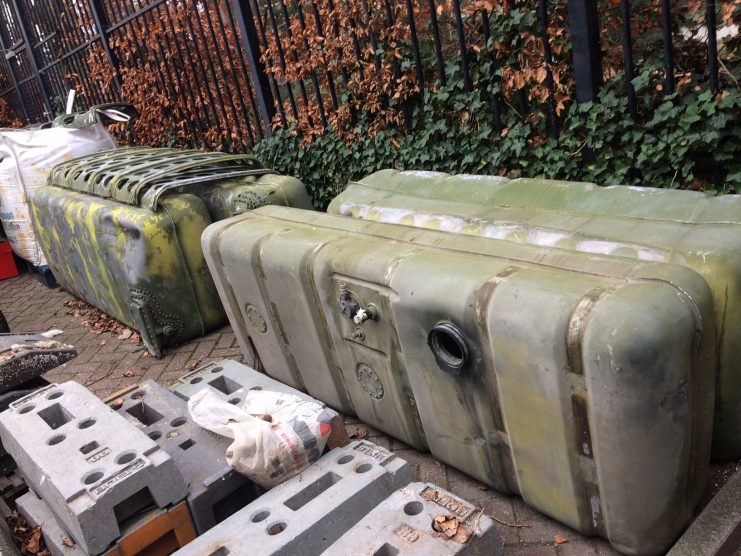 The Florida C-47 was complete and in a very good state, no corrosion. She had just had a new paint job before she went down in 2004. The C-47 owner had planned to fly her out again after an engine change but that came all to no avail.
The only flight she ever made again was during our short hoisting job in Sept 2018, to get her on the trailer, see photo 2.
The aircraft is now being prepared for a Theme Park as a special feature. The tanks were no longer needed so they have been taken out of the wings. There are in total 4 of them, both from the LH and RH wing. They seem to be (as the total airframe) in a pretty good condition. See photo above.
I will take them with me on transport to Normandy and make them available for the person interested, only for a very low amount to compensate for the costs made. If interested, you can contact me right away via my Facebook Page/ Messenger and let me know what you have in mind with them.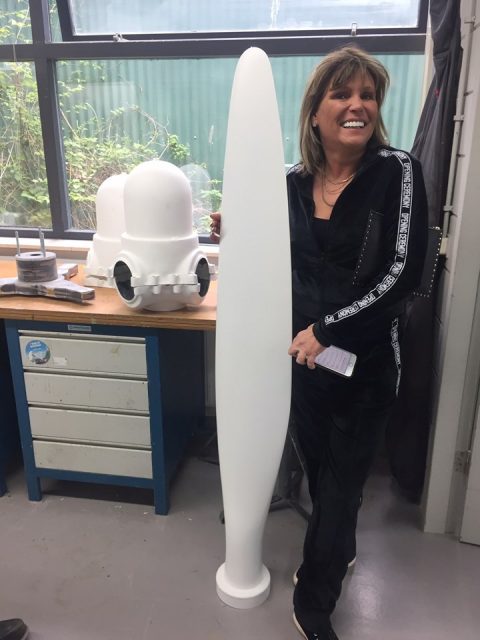 The Theme park that will display the Florida C-47 later this summer, they needed the DC-3 Propellers but the original Hamilton Standard Prop sets are heavy and expensive, hard to find as complete sets by now. We took the original set for making a mold and from there, they had a carbon copy made of the 3 Blades, the 2 clamps, the hub cover/ spinner, and the spider.
Dear Erica, just over from Ohio, was so kind as to stand next to the prop in order to give scale and elegance to the Blade. Thank you, Erica.
You can see the length of the blade is some 170 cm, making the prop arc some 3,50 cm of nearly 12 feet arc diameter. You will notice the 2 clamps and the Hub cap on the Bench behind her, all in very light composite or Plastic material.
This original DC-3 / PBY Catalina Hamilton Standard Prop-set is for sale at Caen Airport!
I will take the set with me to Normandy on the truck and show it on Caen Airport on 7-8-9 June in the sales stand of Delware Company.
The authentic Hamilton Standard Blades are in bare metal, but if you like, you can have the set in Matt Black or even in Mirror-polished finish.
On top, we consider replicating the complete Prop-set for sale in the much lighter but High Quality Carbon or Plastic version, that saves a load of weight in the wall mounting and in transport (from 160 kilo back to 6 kilo, figure what that saves in shipping!).
If interested, you let me know and we keep you informed over the availability, prices, and smaller versions ( also the smaller 3-blade prop of the C-45, Twin Beech B-18 is under study for a replicated version with a prop arc of 2,10 m/ 7 feet)
Over the years, I have supplied the props in all versions and with the wall mounting or on a pole. I can show you the detailed pics of that if the set might interest you. If interested, you can contact me right away via Facebook Messenger and let me know what you have in mind and you can make me an offer for the set, an authentic war relic from the Legendary C-47/ Gooney Bird/ DC-3/ Dakota,
Another Article From Us: D-Day 75: Jumping Into Normandy, One Man's Journey
For more stories, 5-Star reviews, and photos about my books and blogs come to my sites, also for ordering:
www.dc3dakotahunter.com / www.catalinabook.com