War History Online proudly presents this article from Guest Blogger Reg Jans, www.regjans.com.
Reg Jans' deep passion for WWII began as a boy after talking to his grandfather (who had been wounded in 1940 while fighting in France with the Belgian Army) and watching moving picture footage of the D-Day landings, parachute drops over the Netherlands and snow-covered foxholes in the Ardennes. His grandfather's death signalled a turning point for Reg, along with the realisation that freedom does not come for free and historical knowledge should be preserved and passed on.
You can tour with Reg to see key places in our WWII history – check out his website: www.regjans.com
Sometimes posthumously, fourteen Sergeants, three Corporals and three Privates First Class were honored for their bravery and self-sacrifice in order to save the lives of their comrades, to stop the advance of the enemy by holding at all cost or to enable a crucial breakthrough.
Followed by the 80th Infantry Division and the 30th Infantry Division, both Divisions have two, the Second Infantry Division (Indian Head) holds the record with four MOH recipients for their actions at Krinkelt-Rocherath, also known as the Twin Villages.
Thirteen of these heroes did survive the Second World War but to this day Sergeant Francis S Currey, from Hurleyville, NY, is the only one still among us.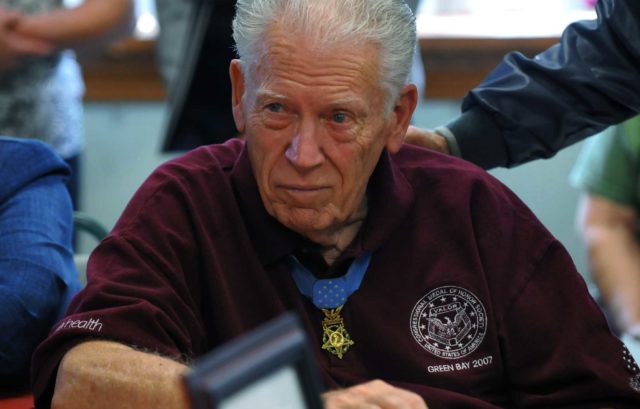 Rifleman FRANCIS S. CURREY served as a Sergeant in third platoon, K Company, 120th Regiment, 30th Infantry Division also known as the 'Old Hickory' or FDR's SS.
On 21 December Francis and his squad defended a bridge in Malmedy, Belgium, when the enemy launched a powerful attack. After prolonged fighting, German tanks forced the withdrawal of Frank's group to a nearby Paper Factory near Pont de Marche, today the site of Ahlstrom, a company specialized in fiber-based materials.
Sgt. Currey found a bazooka in the building and crossed the street to secure rockets meanwhile enduring intense fire from enemy tanks and hostile infantrymen who had taken up a position at a house a short distance away. In the face of small-arms, machinegun and artillery fire, Sgt Currey, with a companion, knocked out a tank with one shot. Moving to another position, he observed three Germans in the doorway of an enemy-held house. He killed or wounded all three with his automatic rifle.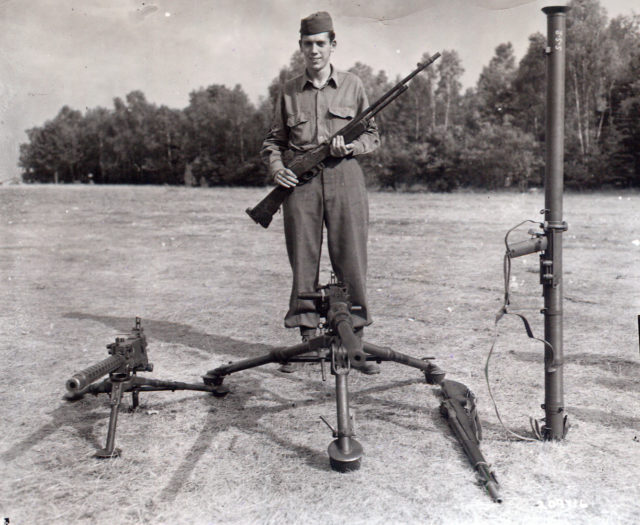 Mr. Currey emerged from cover and advanced alone to within 50 yards of the house, intent on wrecking it with rockets. Covered by friendly fire, he stood erect, and fired a shot which knocked down half of 1 wall. While in this forward position, he observed five Americans who had been pinned down for hours by fire from the house and three tanks. Realizing that they could not escape until the enemy tank and infantry guns had been silenced, Sgt. Currey crossed the street to a vehicle, where he procured an armful of antitank grenades.
These he launched while under heavy enemy fire, driving the tank men from the vehicles into the house. He then climbed onto a half-track in full view of the Germans and fired a machine gun at the house. Once again changing his position, he manned another machine gun whose crew had been killed; under his covering fire the five soldiers were able to retire to safety. Deprived of tanks and with heavy infantry casualties, the enemy was forced to withdraw.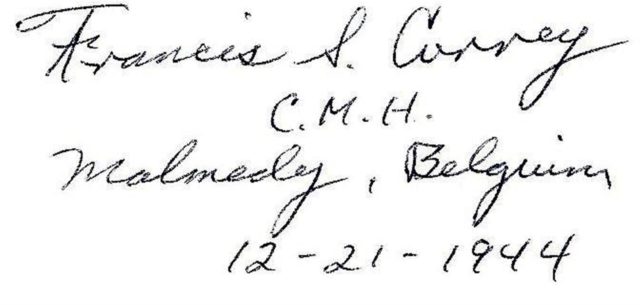 Through his extensive knowledge of weapons and by his heroic and repeated braving of murderous enemy fire, Sgt. Currey was greatly responsible for inflicting heavy losses in men and material on the enemy, for rescuing five comrades, two of whom were wounded, and for stemming an attack which threatened to flank his battalion's position.
By Reg Jans
Photos provided by the author.