History is full of examples of overlaps in major league baseball and military service.
From Stan "the Man" Musial's naval service in WWII followed by his historic career with the St. Louis Cardinals to Yogi Berra's combat service in the WWII Navy.
Followed by many distinguished seasons as a catcher for the New York Yankees, professional baseball and the military have often become intertwined.
Growing up across the street from Yogi Berra in the historic Italian district of St. Louis known as "The Hill," Joseph Henry Garagiola became a celebrated prospect as a catcher for the St. Louis Cardinals in 1944, around the timeframe he was required to register for the military draft.
"Joe Garagiola, the 18-year-old St. Louis boy who has already had two years of professional baseball experience with the Cardinal minor league farms and who was accepted for army service Monday after passing his induction examination at Jefferson Barracks, arrived here tonight," reported the St. Louis Globe-Democrat on March 22, 1944.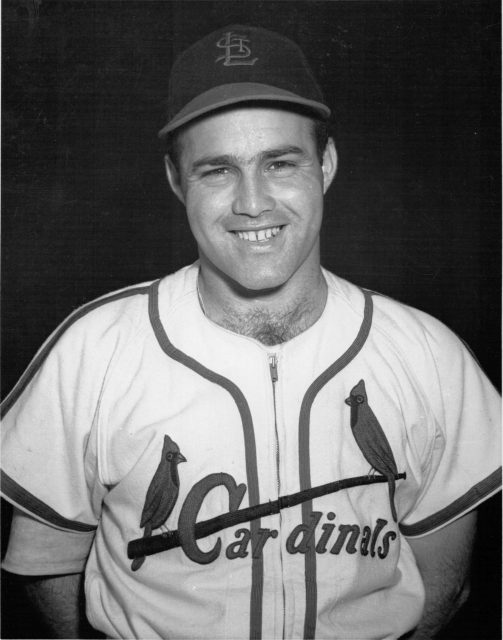 The newspaper added, "Considered one of the finest catching prospects the Cardinals have ever had … Garagiola will help out with the Cardinal catching here until he is called into service."
Exchanging his Cardinals uniform for that of a soldier in the U.S. Army, Garagiola completed basic training at Jefferson Barracks.
From there, he was sent to Fort Riley, Kansas, playing baseball for the Fort Riley Centaurs to entertain troops stationed at the Army base.
However, later that year, in mid-December 1944, the Battle of the Bulge unfolded in Europe and his battalion was sent to Fort Knox, Kentucky, undergoing the conversion from cavalry to tank operators. It was here that his pre-war talents were called upon once again.
As noted in the March 30, 1959, edition of the Tampa Times, Garagiola was assigned to Company C, 785th Tank Battalion "because the CO (commanding officer) was a bug on baseball and wanted the best team at Fort Knox."
The article further explained, "He got it but he (also) got his sailing orders soon after and we all set out for the Philippines."
Departing the United States aboard a Dutch freighter on July 28, 1945, Garagiola discovered during the 39-day-journey to the Philippines that he possessed the talent to entertain an audience through speaking and storytelling—a revelation that would benefit him in the years following his baseball career.
During their journey across the Pacific, the atomic bombs were dropped on Hiroshima and Nagasaki, heralding the end of World War II.
Upon arrival in the Philippines, their tank battalion became military policemen and were assigned to Camp Balut near Manila.
In an article by Gary R. Morminos printed as a special to the May 6, 2016, edition of the Tampa Times, a fellow 785th Tank Battalion veteran and lifelong friend of Garagiola, Tom McEwen, explained that the battalion was responsible for the establishment of a prisoner of war (POW) camp, which eventually housed 2,000 Japanese POWs.
McEwen, who was appointed to serve as prison officer for the new POW camp, noted that his new position came with an assigned driver.
"Pfc. Joe Garagiola, reporting for duty!" recalled Morminos in the aforementioned article.
The Cardinals catcher soon received special assignment to play baseball for the Manila Dodgers and helped entertain scores of troops passing through the Philippines, who were completing their paperwork for discharge and return to the United States.
When no games were scheduled, Garagiola helped oversee Japanese POWs tasked with unloading ships in the harbor.
"In … (1945) he caught Pitcher Kirby Higbee, Brooklyn fireballer who managed an army team in Manila," reported the St. Joseph Gazette on October 30, 1946.
"Joe hit a home run in Manila's Rizal Stadium and his name is printed in big letters on the outfield wall, not far from spots where Babe Ruth and Lou Gehrig once blasted four-baggers on their way to Japan barnstorming tours."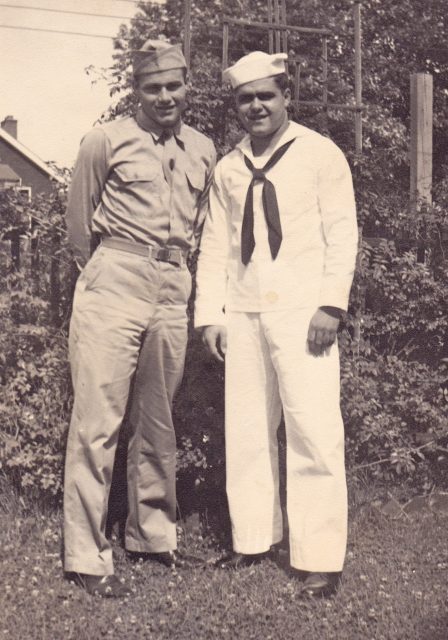 Garagiola's youngest son, Steve, explained, "He said they would sometimes play four or five games a day because there was always a new batch of soldiers moving through who needed some entertainment." He added, "And for a catcher, that was no easy duty."
According to Garagiola's discharge papers, he returned to the United States on May 7, 1946, and received his separation on May 13, 1946, having achieved the rank of sergeant after completing a little more than two years of service.
Following his return to Missouri, he entered the lineup for the St. Louis Cardinals and, as a rookie, went on to make his only World Series appearance in 1946.
His major league career would extend nine seasons with him also playing for the Pittsburgh Pirates, Chicago Cubs and New York Giants.
In the years that followed, he married and raised two sons and a daughter. In 1954, he "quit a $16,000-a-year job with the world champion New York Giants … to begin a career as a $12,000-a-year color commentator on the Cardinals' broadcasts," wrote Bob Broeg, a former sports editor, in the August 3, 1971, edition of the St. Louis Post-Dispatch.
The ballplayer's career later blossomed into a successful livelihood as a broadcaster and author, also parlaying the captivating storytelling abilities he discovered in the military into a successful public speaking circuit.
On March 23, 2016, the 90-year-old former St. Louis Cardinal and U.S. Army veteran passed away in Scottsdale, Arizona. His remains were returned to his native St. Louis and are interred in the city's Resurrection Cemetery.
Answering his country's call to service when Uncle Sam drafted him during WWII, Garagiola's stint in the U.S. Army had a lasting impact on his career success and revealed his dedication to a simple, unadorned philosophy of living.
"Lt. Dan" Gary Sinise Honored With Award From Congressional Medal of Honor Society
In the transcript from an oral history interview conducted between 2007 and 2008 by Historical League, Inc., Garagiola modestly affirmed, "I do what I'm supposed to and try to stay out of trouble, which has been my philosophy."
Jeremy P. Amick writes on behalf of the Silver Star Families of America