Undoubtedly, the Second World War has always been a favorite subject for movies. Many actors have played in war films, everyone from John Wayne to Tom Hanks.
During the war, many Hollywood actors served their country with distinction, at home and in combat, men like James Stewart, Clark Gable, and a host of others. But Audie Murphy was more than just a Hollywood star—he was one of the most decorated American soldiers of World War II.
Perhaps the best part of the story with Murphy is the fact that he was admittedly flawed in many ways just like the rest of us. His story is not one of a shooting star, but rather one of endeavoring through the highs and lows in life while rising to the occasion when needed.
Audie Murphy's Early Life
Audie Leon Murphy was born on June 20, 1924, son of poor Texas sharecroppers. The Depression hit the family hard, and Audie once recalled that the family lived in an "honest to goodness shack." His father abandoned the family, and when Audie was 17 his mother died. That left him the sole support of 10 siblings. To supplement the family's meager rations, Audie would hunt rabbits, using a slingshot when he couldn't afford shells for his rifle.
Audie Murphy in World War II
Audie joined the army and became a member of the Third Infantry Division. He took part in some of the bloodiest and most decisive actions of the war. Murphy saw combat in Sicily in 1943 and later took part in the ill-fated Anzio operation.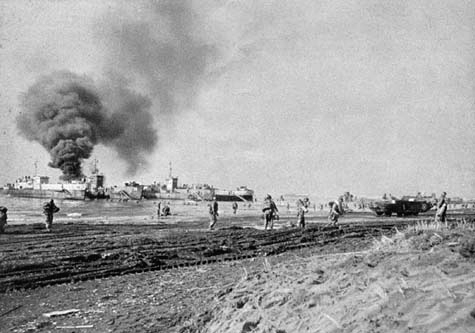 In 1944 the Third Division invaded southern France in support of the more famous D-Day Normandy invasion further north. There was much hard fighting, and Audie had risen to sergeant. Later, he was to get a battlefield commission as a Second Lieutenant.
Murphy's most heroic moment occurred on January 26, 1945, in the so-called Colmar Pocket of eastern France. Suddenly, Murphy's company was confronted with a massive German attack, spearheaded by six tanks. In spite of German heavy fire, Murphy stayed at his post as an artillery spotter, calling in enemy positions over a field telephone.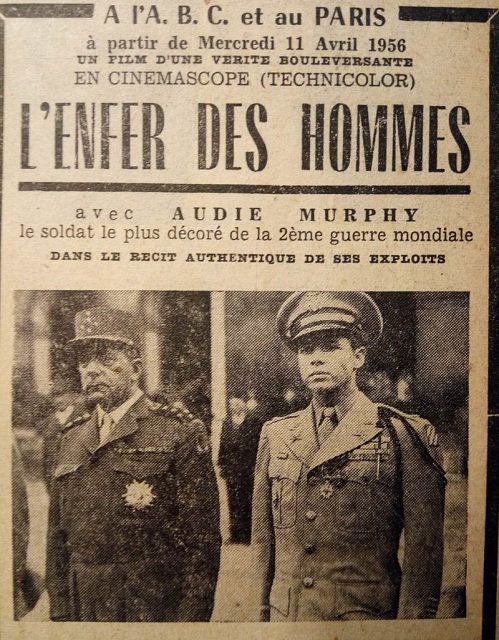 The crisis of the fight was now at hand. An American tank was hit, the crew escaping as flames leaped up from its steel frame. As the Germans surged forward, Murphy jumped on the burning wreck and manned its .50 caliber machine gun. Murphy remained on the burning tank for nearly an hour, holding the Germans at bay in spite of a bad leg wound and heavy enemy fire. When the Germans finally broke off their assault, Murphy hobbled over to his men and led a counterattack.
Murphy was one of the most decorated American soldiers of the war. He was credited with killing over 240 of the enemy while wounding and capturing many others. He was honored with 33 medals and decorations, including 5 from France and Belgium. Murphy was also awarded the Medal of Honor.
Audie Murphy, Hollywood Movie Star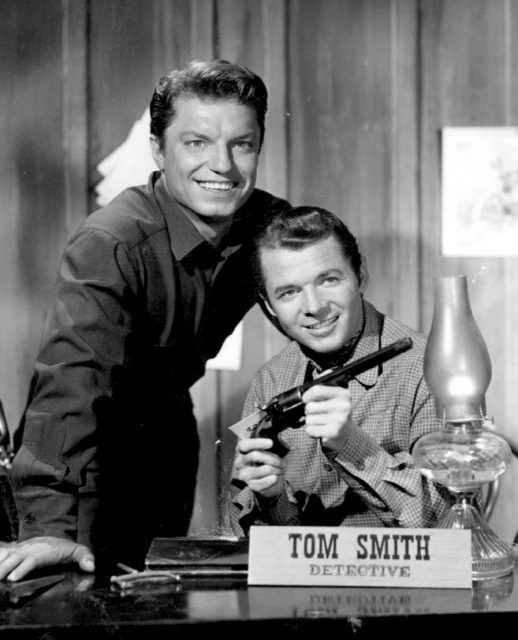 After the war, famed actor Jimmy Cagney spotted Murphy on the cover of Life Magazine and asked him to come to Hollywood. Cagney tried to help his career but the first few years in Hollywood were failures. He became disillusioned and ended up sleeping in a men's gym.
But things picked up. In 1950 he starred in Bad Boy and got a contract from Universal-International Studios. Earlier, he had written a movie about his war exploits called To Hell and Back. Universal made it into a popular movie in 1955. Murphy starred in the film, though he was reluctant to do so.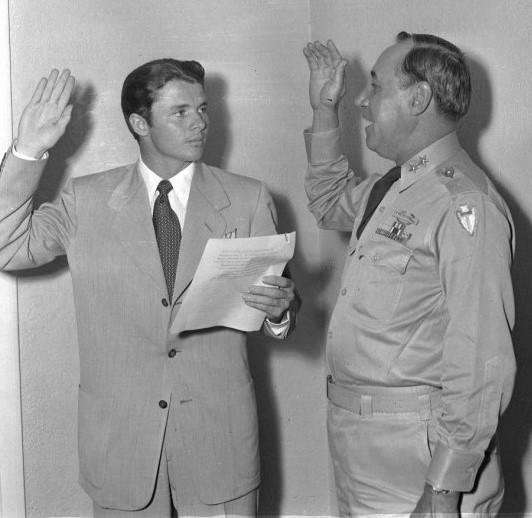 Over the next 20 years or so Audie made 26 Hollywood films, most of them westerns. Two examples are Red Badge of Courage (1951), directed by John Huston, and The Unforgiven (1960), with Burt Lancaster and Audrey Hepburn. He was married twice, the first time to Hollywood actress Wanda Hendrix.
Post-Traumatic Stress Disorder
Murphy was a genuine hero, but fame came at a price. He suffered from insomnia and depression, had "flashbacks" of combat, and was often moody and dangerous. If you caught him during one of his "down" periods, he might confront you with a loaded gun. The actor was suffering from Post-Traumatic Stress Disorder (PTSD).
It was poorly understood at the time, and often covered up. Murphy courageously went public with his mental and emotional state, urging Congress to fund more research and help for war veterans who suffer from the condition.
Audie Murphy's Last Years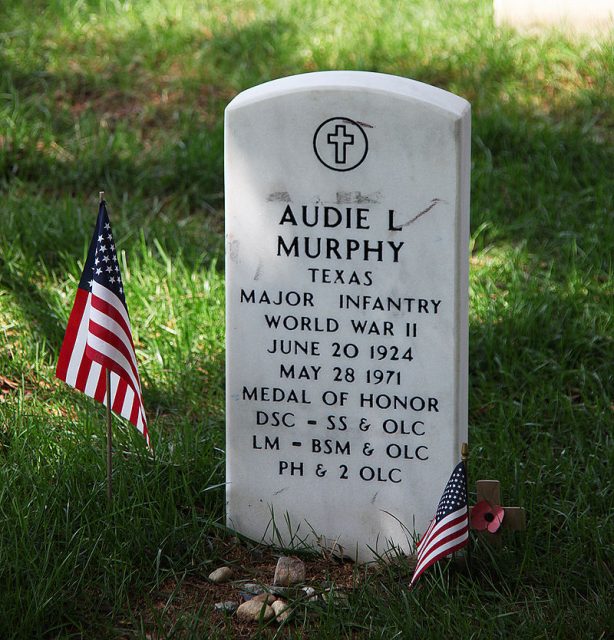 Murphy owned a horse ranch and was a successful racehorse owner and breeder. He was a gambler, too, and won and lost several fortunes during his life. Audie wrote poetry and was a successful songwriter.
On Memorial Day, 1971 (May 28, 1971) Audie Murphy was killed at the age of 46. He was a passenger in a private plane that encountered fog and rain and crashed into a mountain. We should continue to remember Murphy not as a story of the "perfect" guy, but rather the guy who was a genuine personality and easy to like and who stepped up to the plate when called.