The United States Air Force and Army have seen many skilled, brave, and incredible pilots – men and women willing to fly straight into battle, to face war in the skies. Among all of those heroic fighters, one, in particular, made his mark in history.
His name was Edward Vernon Rickenbacker.
A fighter ace in World War I, Rickenbacker remains America's most successful fighter ace of that time with a total of 26 impressive aerial victories. Yet Rickenbacker was so much more than a skilled pilot. His life outside of the military was one of intrigue, excitement, and even dramatic brushes with death.
From government consultant to the head of a U.S. airline, Rickenbacker led a fascinating life – these are five standout facts about this famous ace.
1. Rickenbacker survived 135 brushes with death during his lifetime.
Although he's best known as "America's Ace of Aces," the fighter pilot wasn't always a smooth operator. In fact, over the course of his lifetime, Rickenbacker faced off with death an astonishing 135 times. Others nicknamed him "the luckiest man alive" because of his frequent brushes with death. Early on in his life, the trend began: Rickenbacker almost died after a run-in with a horse-drawn carriage, a tonsillectomy gone wrong, and even a mine cart crash that nearly crushed him.
Two of his more dramatic experiences made his survival seem even more unlikely; Rickenbacker spent weeks adrift at sea during World War II and survived a deadly plane crash while flying as a passenger in one of his very own airline's planes. Fortunately, Rickenbacker survived each and every one of these horrific moments and died peacefully at the age of 82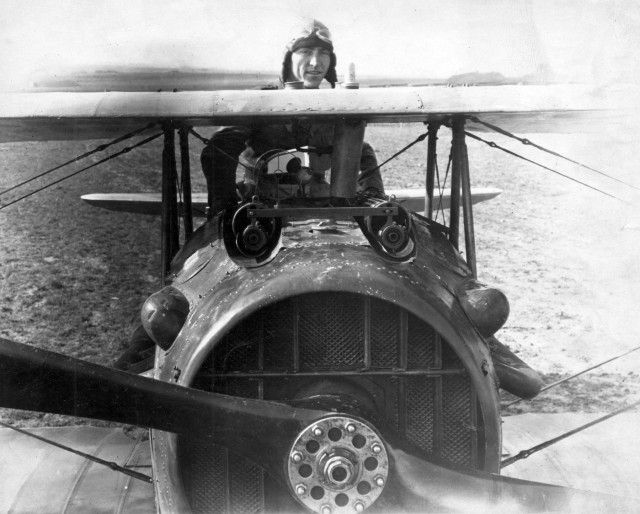 2. Political opinions were problematic for Rickenbacker, who was banned from radio broadcasts at NBC for disagreeing with President Franklin Roosevelt.
During FDR's terms as president, the pilot and the president clashed over differing opinions frequently and repeatedly. The source of their contention, surprisingly, was Roosevelt's New Deal policies. Although these policies were effective and did get Americans back to work in the midst of the Great Depression, Rickenbacker believed FDR was implementing socialism – and the famed fighter ace refused to stay quiet. He spoke out against President Roosevelt regularly and on public radio, criticizing the New Deal and the President himself.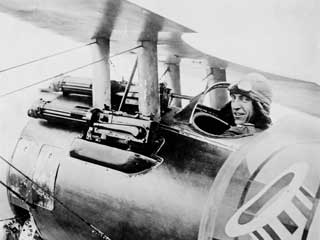 FDR fought back, though; his administration ordered NBC Radio to forbid Rickenbacker from sharing any anti-Roosevelt opinions on the airwaves. Rickenbacker continued his critical expression, speaking out against another presidential decision to rescind airlines' existing mail contracts and give the responsibility to U.S. Army Air Corps pilots – he even went as far to call Roosevelt's decision "legalized murder."
3. Rickenbacker faced a number of obstacles along his path to becoming a pilot, including his U.S. Army superiors attempting to block his progress.
In order to achieve his historic status as a famed fighter ace, Rickenbacker struggled. He enlisted in the military before WWI even began, so when the U.S. declared war on Germany, Rickenbacker was already in training. By 1917, he was stationed in France as a Sergeant First Class. However, Rickenbacker immediately faced difficult odds: the majority of his fellow pilots-in-training held college degrees. The future ace didn't, and he struggled to get the permission to fly from his superiors.
The Army believed Rickenbacker wasn't academically qualified to become a pilot. So, Rickenbacker took a different path and earned the assignment of engineering officer. During his free time, he practiced flying, building his skills. Finally, once Rickenbacker was deemed experienced enough to fly – yet another obstacle appeared. Because he'd become such a fantastic engineer with impressive mechanical skills, once again his superiors attempted to stop his progression to pilot.
It wasn't until Rickenbacker provided his superiors with a replacement as skilled as he that they allowed him to take a place in the 94th Aero Squadron, an air combat unit.
4. Before his years as a fighter ace, Rickenbacker was a famous race car driver – he was so skilled, he even competed in the Indianapolis 500 four times.
Driving race cars and flying fighter planes may not appear to share many similarities, but the two skills certainly did for Rickenbacker. Before WWI, the ace was known as "Fast Eddie," a sought after driver known for his expertise and speed on the racetrack. In the early 1900s, Rickenbacker drove for two different racing teams: Maxwell Racing Team and Prest-O-Lite.
He was such a skilled race car driver that he even traveled to London to source information about whether or not American race car manufacturers could develop an even speedier English car. At one point, Rickenbacker even suggested to the U.S. military that race car drivers would make excellent fighter pilot recruits thanks to their high-speed driving capabilities. Years later, Rickenbacker's racing bug returned, and he purchased the Indianapolis Motor Speedway in 1927.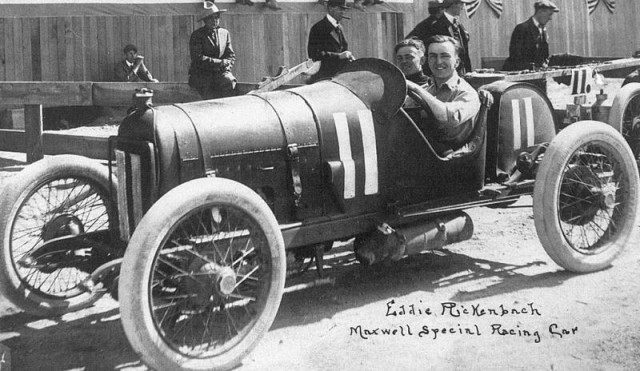 5. In the years between World Wars I and II, Rickenbacker founded his own automobile company, producing cars for the American public.
As a former race car driver, it comes as no surprise that Rickenbacker loved cars – yet this incredible ace enjoyed them so much that he founded his very own car company in 1920. Named the Rickenbacker Motor Company, Rickenbacker's goal was to sell technologically advanced and innovative cars that incorporated the newest auto racing developments.
For nearly a decade, Rickenbacker Motor Company succeeded. In fact, the company's vehicles were the first to come equipped with a four-wheel brake system. Unfortunately, other car manufacturers didn't like this advancement and began spreading bad publicity about Rickenbacker's cars; this forced the company into bankruptcy in 1927. However, the legacy of the company hasn't disappeared – all vehicles manufactured in the U.S. were eventually required to have four-wheel braking.