The Agaimbo swamp is located in one of the most remote regions of Papua New Guinea. It is infested by malaria–carrying mosquitoes and huge crocodiles and the heat is overpowering.
It is the last place in the world you would expect to find a World War II bomber, but that is exactly what was discovered there by the Australian Air Force in 1972.
The bomber was a B-17E Flying Fortress, a four- engine heavy bomber used by the United Sates Air Force, it was piloted by Captain Fred Eaton and took part in one of the first air attacks by the US Air Force during the war.
The bomber was intercepted by Japanese Fighters after a raid on ships at Japanese-occupied New Britain. The airplane suffered numerous hits and eventually crash-landed in Papua New Guinea – not because of the damage to the airplane, but because it ran out of fuel.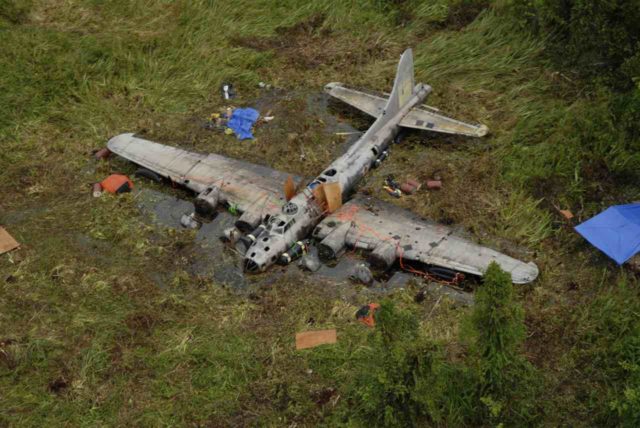 Eaton and his men were on their way back to base at Long Reach in Queensland, Australia, but they crashed into Agaimbo Swamp on February 23, 1942.
They survived, and after six weeks of struggling on foot, fighting malaria and terrible heat. When the crew was reunited with American troops, the members were immediately assigned to another aircraft and were flying again within a week
Coincidentally, the B-17E was assigned to the Kangaroo Squadron, which flew into Pearl Harbor from San Francisco during the Japanese attack on December 7, 1941. This occurrence contributed to the disaster because U.S. radar personnel on Hawaii assumed the incoming Japanese attack wave represented the squadron's expected arrival.
Swamp Ghost was not with the squadron on that fateful day, instead, it flew in shortly after the attack.
It was not until the 1980s that efforts were made to remove the bomber from the swamp. David Tallichet, an antique plane collector, who had been a World War II air pilot himself, began the huge task.
He was helped by his family and an aircraft salvage expert named Alfred Hagen. By 2010 the job was finished. They nicknamed the plane 'Swamp Ghost.'
It is now famous, and historians and aviation enthusiasts know it as the 'Holy Grail' of military aviation.
Swamp Ghost was believed to be the best-preserved B-17E, out of only four that have been recovered. The plane was salvaged in 2006 and moved to Lae wharf where it lay waiting for permission to be transferred to the United States.
By February 2010, the what remained of the bomber had been cleared for import to the United States It was transported back to Hawaii to be displayed at the Pacific Aviation Museum at Pearl Harbor where it arrived on April 10, 2013.