Sergeant Alvin York was seemingly born to a hardscrabble existence and anonymity in death, but World War One changed that forever. The story of York is one that twists and turns like the Mississippi river as he went through redemption and battled personal demons.
At the end of it all was the story that could have secured fame, finance, and his future – but York turned his back on it all to go back to the simple life and try and make a positive impact on the community in which he lived. York's early upbringing laid the foundations for the heroic feats that he would perform later on in life. He was born in a log cabin in 1887 close to Pall Mall in Tennessee, the third of 11 children.
His upbringing was typical of the poor, subsistence farmers living in the area. Alvin was only sent to school for nine months as his father wanted him to help out on the farm and hunt to provide extra food on the table. This lack of schooling may have set York back in some ways, but it gave him the essential skills that he would later use to achieve his fame.
When his father died in November 1911, Alvin took charge of supplementing the family income as he was the oldest sibling still living in the area. To do this, he took a job on the railways at Harriman, Tennessee. York was a skilled worker who always had the welfare of his family in his mind, but despite this was a raving alcoholic who loved nothing more than getting into drunken fights. This led the authorities to arrest him on several occasions.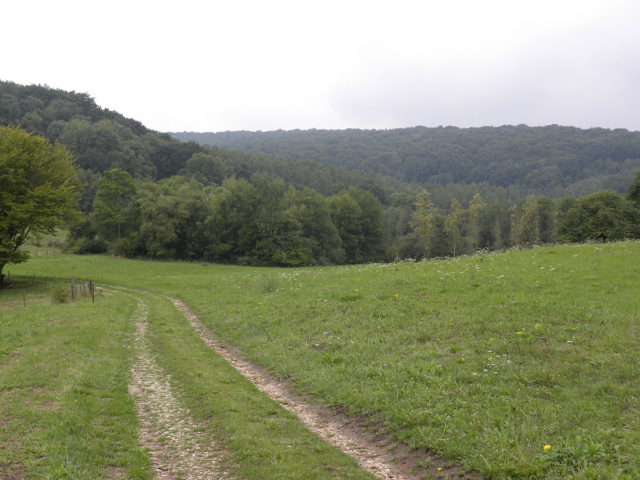 His mother was a pacifist Protestant and tried to get her son and dominant breadwinner to change his ways – although he only did so after his close friend Everett Delk was beaten to death as a result of a saloon brawl. And so York went from one end of the spectrum to another as the former fighter and drinker became a member of the extreme pacifist sect called the Church of Christ in Christian Union – who forbade almost anything fun.
As a fundamentalist sect, this church believed in a strict moral code that denied its followers drinking and fighting. York had undergone a complete moral U-turn, and the consequences of that would trouble his conscious for his whole life in the Army. When York found out that World War One had broken out, it caused him immense trouble. In response to the news, he simply wrote: "I was worried clean through. I didn't want to go and kill. I believed in my Bible."
This conscientious stance to fighting continued into 1917 when he was required to register for the draft. Every man between the age of 21-year-old and 31 was required to do so – however, they could claim exemption from the draft on conscientious grounds. On his draft slip, he simply wrote, "Don't want to fight." As a result, his claim was denied. It's difficult to say what would have happened if York had undergone more than nine months of schooling – had he been able to put his thought down more eloquently there is every chance his story would never have happened.
In November 1917 York was drafted and sent to Camp Gordon in Georgia to begin his Army service. It was from there that he was drafted into the United States Army and assigned to Company G, 328th Infantry Regiment, 82nd Infantry Division. York remained at odds with his pacifist code and held in-depth discussions with his company commander and battalion commander, during which they quoted him biblical passages that condoned violence.
After returning home for ten days to think, York returned to the Army convinced it was his duty to fight for the Lord – and that God would keep him safe. He was then sent to France and served in the St Mihiel Offensive. After the fighting was concluded, he was sent on to take part in the Meuse-Argonne offensive.
On the 8th of October, 1918 York and his unit received an order to capture German positions around Hill 223, which was along the Decauville rail line north of Chatel-Chehery in France. York was about to enter the fight that would earn him a Medal of Honor. Talking about the engagement, he said: "The Germans got us, and they got us right smart. Our boys just went down like the long grass before the mowing machine at home."
In short, it was a terrible situation. The enemy held a ridge; they were pouring machine gun fire into Allied men, and it was taking a horrible toll. They needed a hero, and in the form of an anti-war, deeply religious crack shot they found one.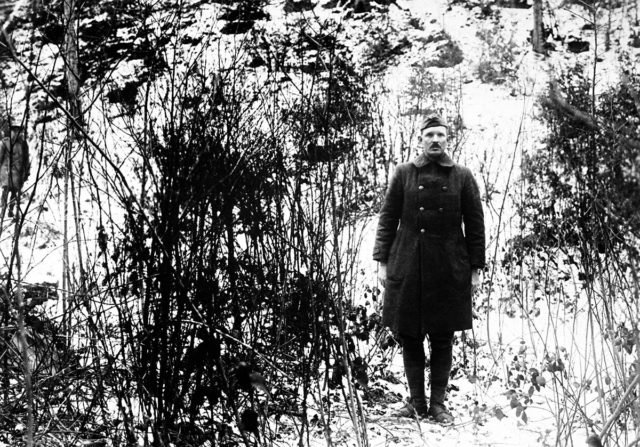 Sergeant Bernard Early, four non-commissioned officers including the then Corporal York and 13 privates, were sent to get behind German lines and take out the machine guns. The men worked their way behind the Germans and took the German headquarters in the area by surprise – capturing a large number of the enemy.
As Early and his men worked to secure their new prisoners, the German guns on the hill turned their fire on the small group – killing six and wounding three others. Because of the loss, York was now in charge of the men.
York then worked his way into position to target the machine guns, after leaving the rest of his squad behind to guard the prisoners.
Using all that knowledge from hunting as well as his incredible skill, York began firing at the guns. There were around 30. In his own words, all he could do was 'touch the Germans off as fast as possible.'
But this brought about another moral dilemma for the soldier, who was also calling out for the enemy to surrender so he could stop killing them. At one point in the engagement, six Germans charged York's position – but the man calmly drew his pistol and shot them all down before they could reach him.
Eventually, the German Commander First Lieutenant Paul Vollmer took into account his mounting losses and offered to surrender to York – who gleefully accepted. York and the remaining seven Americans then marched 132 prisoners back to friendly lines.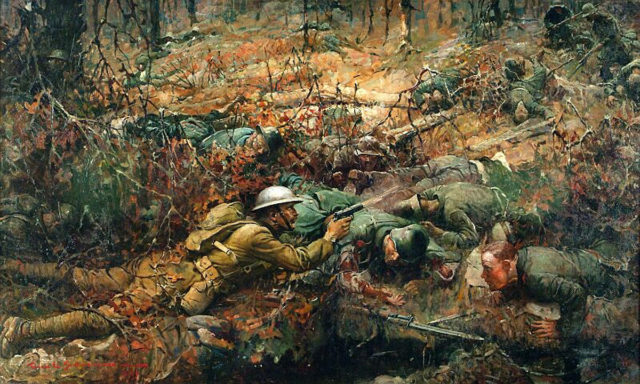 Upon being presented with this haul, York's brigade commander is said to have remarked: "Well York, I hear you have captured the whole damn German army." To which the hero responded: "No sir. I got only 132."
York was promoted to Sergeant and awarded the Distinguished Service Cross, which was swiftly upgraded to the Medal of Honour. France also decorated the man with the Croix de Guerre and the Legion of Honour.
Back home in the States, York turned down several offers that would have secured his future – and instead fell into debt by 1921 after several well-meaning public schemes to provide for the hero fell flat.
He also founded the Alvin C. York Foundation, whose goal was to increase education for those in Tennessee, and in 1935 York began work with the Civilian Conservation Corps. During World War Two, he tried to re-enlist in the Army but was denied because of his physical condition. York was, however, commissioned as a major in the Army Signal Corps.
He had eight children with his wife Grace and died in 1964 in Nashville, Tennesse.