The twin-engined, three seater float plane was originally bought by the Norwegian Navi Air services in 1939. It was used by the Norwegians against the invading German forces in April 1940 and after Norway surrendered the Germans took over the airplane and used it against Allied convoys that were sailing towards the Soviet Union.
On December 1942, it was escorting a German convoy after which it lost a float on landing and overturned. None of the crew were killed, and the Germans were even able to recover the starboard engine and the remaining floats before the bomber sank. It remained on the bottom of the fjord for almost 70 years.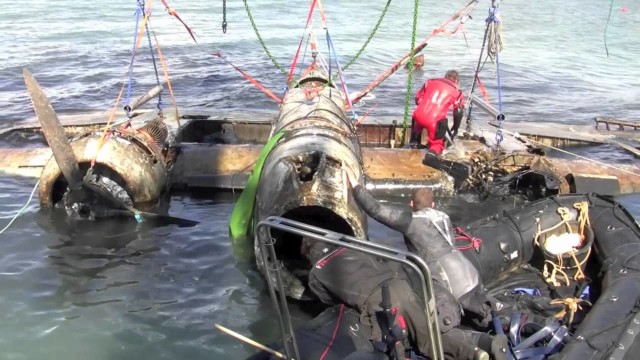 In 2005, the airplane was found by Norwegian mappers using sonar equipment and after a big fundraiser the Sola aircraft museum on June 2nd 2012, they were able to raise it from the bottom of the fjord, suspending it below the surface from a barge.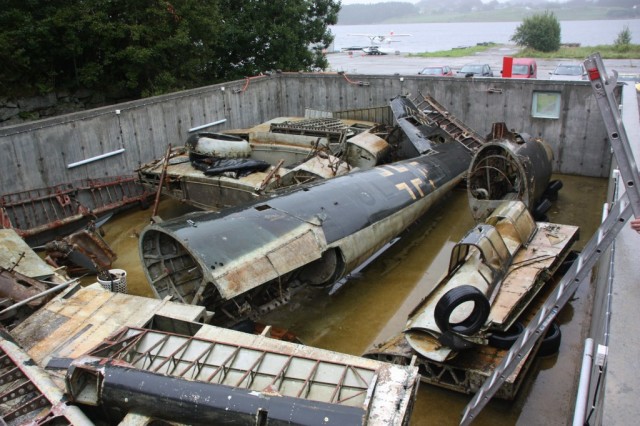 Image source: heinkel115.com
The barge with the seaplane was towed to the shore where a crane lifted it out of the water. The plane was in remarkable condition, mostly due to the fact it came to rest in low-oxygen silt in a part of the fjord with minimal currents.
Of some 300 aircraft made, this is the only salvaged He-115 in existence and due to it's condition, may be able to be restored to full flying condition!
The Heinkel HE 115
The Heinkel He 115 was 3 seater Luftwaffe seaplane of which only 138 were built. At the beginning of the war, the He 115 was used for dropping parachute mines in British waters, normally aiming for narrow passages in close vicinity of the busy ports on the English south coast. The River Thames was also a prime target.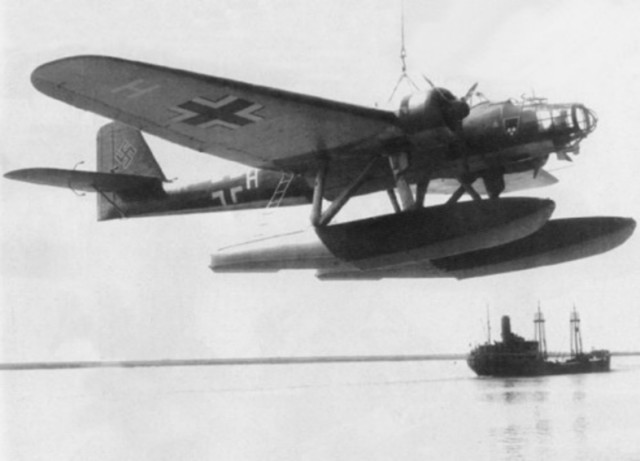 However, the aircraft had its finest moment when operating in the anti-shipping role against the Arctic convoys from bases in Northern Norway. Because these convoys initially lacked air cover, the low speed and comparatively light armament of the He 115 was not such a big problem as it had been over the heavily defended English coastline.
Later on, with the appearance of carriers and escort carriers, coupled with new Soviet heavy fighters like the Petlyakov Pe-3bis, the air superiority over the convoys was challenged, and as a result, the torpedo bomber losses increased.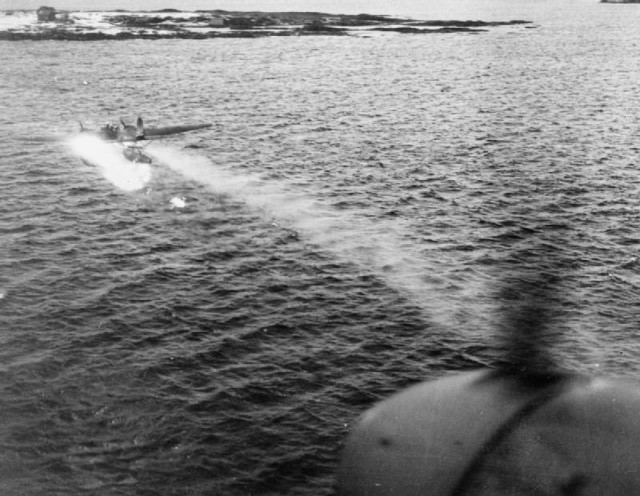 A German Heinkel He 115 on fire and trailing smoke, photographed by the observer of De Havilland Mosquito "P" of No. 333 (Norwegian) Squadron RAF based at Leuchars, Fife (UK), which intercepted the seaplane 60 m above the sea off Bremanger, Norway, while conducting a shipping reconnaissance.
The Mosquito closed to within 200 m to finish off the Heinkel with cannon fire, which crashed into the sea shortly afterwards.
Part 1: Recovery
Part 2: Restoration