On the night prior to D-Day, as part of the invasion of Normandy by the Allied Division, 181 men from the Glider Infantry (British 6th Airborne Division) landed close to the Orne River and Caen Canal by Horsa Gliders. Their aim was to secure the Ranville and Benouville Bridges so that the Germans could not counter-attack the forces that were landing in Normandy, on Sword Beach.
The Benouville Bridge, later renamed as The Pegasus Bridge, was a bridge that moved and connected Ouistreham and Caen across the Caen Canal. It was the task of Major John Howard to take and hold this bridge, along with the Horsa Bridge a few hundred yards away, until relief arrived.
The men that secured this bridge were from B Company, D Company, Ox & Bucks Light Infantry, the 2nd Battalion, the Glider Pilot Regiment and Royal Engineers of 249 Field Company.
Previous to the men boarding their gliders they had been issued with code words. 'Ham' meant the capture of the canal bridge had been completed and 'Jam' meant the capture of the river bridge had been completed. If the canal bridge was captured and destroyed then 'Jack' was to be used and 'Lard' if the same happened to the river bridge.
As midnight came around the gliders that held the Ox & Bucks and D Company were preparing to land. The German troops were shooting at their craft with small arms, and the planes were forced to navigate around stakes of timber that were designed to look like pillars of concrete.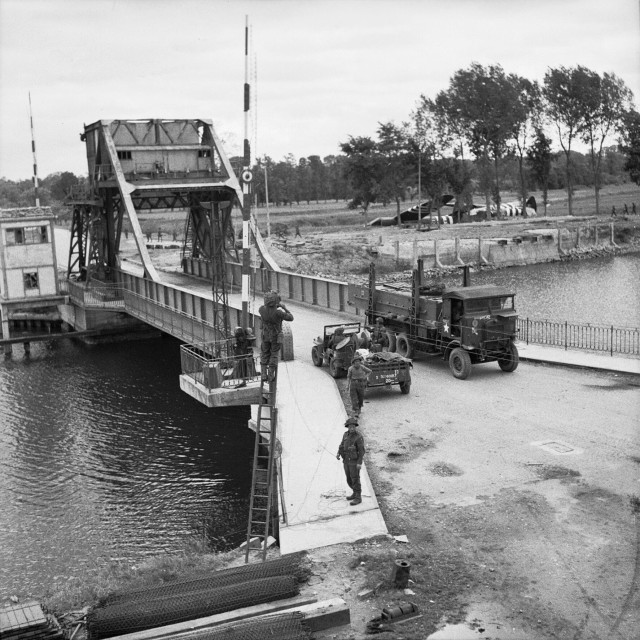 Every plane, except two, managed to land safely within a distance of 50 yards from the bridges, Major Howard's craft managed to land a few feet from them. Lance Corporal Fred Greenhalgh landed in a pond and drowned and another glider landed almost seven miles away, the occupants of this glider ultimately made their way back across the land to rejoin their fellow soldiers.
For those that landed in the correct area safely, fighting happened immediately. The German troops had set charges on the bridge to counter the enemy attack, meaning the Royal Engineers had to dismantle these charges. The British soldiers stormed the bridge and took out a machine gun operator while trying to reach the other side whilst throwing grenades and shooting their weapons. There was one fatality that happened when Lt. Den Brotheridge was throwing a grenade and got hit by retaliatory fire from the enemy.
Within ten minutes of their landing and going through a gunfight, they managed to capture both bridges. Six hours prior to the D-Day ships landing on the beaches of Normandy, Major Howard sent a radio message stating 'Ham and Jam' – the code that meant he held both bridges.
If you watch this video, you can follow the same route that the gliders took when flying in above Sword Beach and then landing within yards of the now famous bridge in Normandy.
https://www.youtube.com/watch?v=ZOn9kPcSkYs