In this video a US B-52 Stratofortress jet bomber is carpet bombing an uninhabited island used as target with 45 M117s bombs during an exercise.
The B-52 bomber has been America's most well-known, revered, and feared aircraft of the last 60 years and is still going strong. The bomber has served in U.S. military operations from the Vietnam War to the most recent war in Afghanistan, and the US Air Force has plans to keep her flying for another 20 years.
It is nothing short of a miracle that the B-52, originally manufactured in the 1950s, can keep flying and stay relevant against modern technology such as drones and stealth jets.
Some of these veteran B-52s are located at Barksdale Airfield in Louisiana, including Cajun Fear, Grim Reaper, Apocalypse, and the Devil's Own, which belongs to the 96th bomb squadron, also known as the "Red Devils".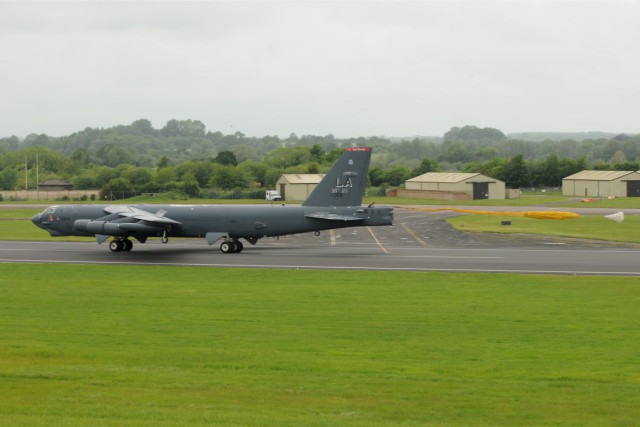 In military circles the B-52 has become fondly known as the 'Buff' short for 'Big Ugly Fat Fellow' and was first brought into service in 1952; in 1962, the last to be built rolled off the manufacturing line, headed for Cuba.
During the Vietnam War, B-52D tail gunners were credited with shooting down two MiG-21 "Fishbeds". On 18 December 1972 tail gunner Staff Sergeant Samuel O. Turner's B-52 had just completed a bomb run for Operation Linebacker II and was turning away when a North Vietnamese Air Force MiG-21 approached. The MiG and the B-52 locked onto one another. When the fighter drew within range, Turner fired his quad (four guns on one mounting) .50 caliber machine guns.
The MiG exploded aft of the bomber, as confirmed by Master Sergeant Louis E. Le Blanc, the tail gunner in a nearby Stratofortress. Turner received a Silver Star for his actions. His B-52, tail number 55-0676, is preserved on display with air-to-air kill markings at Fairchild AFB in Spokane, Washington.
On 24 December 1972, during the same bombing campaign, the B-52 Diamond Lil was headed to bomb the Thái Nguyên railroad yards when tail gunner Airman First Class Albert E. Moore spotted a fast-approaching MiG-21. Moore opened fire with his quad .50 caliber guns at 4,000 yd, and kept shooting until the fighter disappeared from his scope. .
Technical Sergeant Clarence W. Chute, a tail gunner aboard another Stratofortress, watched the MiG catch fire and fall away. Diamond Lil is preserved on display at the United States Air Force Academy in Colorado. Moore was the last bomber gunner believed to have shot down an enemy aircraft with machine guns in aerial combat.
Vietnamese sources have attributed a third air-to-air victory to a B-52, a MiG-21 shot down on 16 April 1972.These victories make the B-52 the largest aircraft credited with air-to-air kills. The last Arc Light mission without fighter escort took place on 15 August 1973, as U.S. military action in Southeast Asia was wound down.
Modern pilots say that the B-52s are a challenge to fly and are showing their age, but they never fail to deliver on their missions and can be an terrifying sight for the enemy. Since the 1960s the exterior has remained the same, but the interior has been updated time and again so that it now uses modern technology and computerised equipment.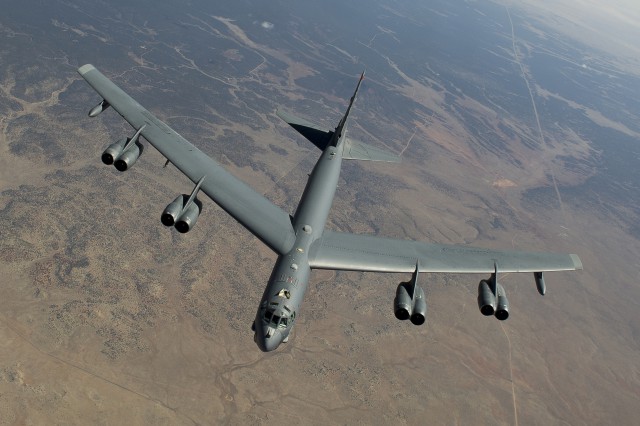 The B-52 is almost 50 meters in length and has a wingspan of more than 56 metres. It has eight engines, and it takes a crew of five men to fly a mission. The B-52 will normally cruise at a height of 50,000 feet and can hold up to 70,000 pounds of bombs, which can include hundreds of regular bombs as well as more than 30 nuclear missiles. It is capable of mid-air refuelling so that its range is significantly extended.
Captain Ryan Allen says that this aircraft doesn't just have fire power, it has political power since the world knows the devastation a B-52 can bring. Veteran B-52 pilot Colonel Keith Schultz, who is the 2nd Bomb Wing vice-commander, has flown B-52s for the last 30 years; he says that it is the kind of aircraft that causes the world to take heed.
Just this year, the U.S. has had some B-52s deployed in the South China Sea, which has angered China. But there is no doubt that the B-52 is a show of strength from America.
Video
https://www.youtube.com/watch?v=xhvCb9uyy4M