This video footage allows you to experience first-hand the takeoff of Aluminum Overcast, a Boeing B-17 Flying Fortress as it departs from Arlington Municipal Airport.
This plane, B-17G-105-VE, serial number 44-85740 is only one out of the ten B-17's that is still airworthy today. There is a total of 48 airframes, which are complete and have survived and that are still in existence.
This particular aircraft never once saw any form of combat and is owned by the EAA (Experimental Aircraft Association). Many aircraft from this period in time were scrapped once World War 2 had ended so this craft had a far better fate. It is now used to tour Canada and the US via flight experiences.
Lockheed Aircraft Company's Vega Division built this aircraft and delivered it to the United States Army Air Corps on 18th may, 1945. This delivery date meant it was not in time to be of any use in Europe (this is where most B-17's ended up being dispatched to).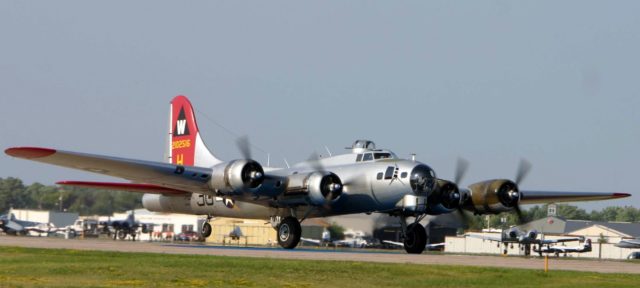 Instead, it was classed as surplus to requirements and sent to storage in New York, where all of the military equipment on board was stripped from the aircraft. In 1946 this craft was sold for $750 as 'scrap.'
Various owners had this aircraft, and it worked several jobs, still flying, until 1976 at which point it was parked up for two years. Then along came Dr. Bill Harrison who had started 'B-17's Around the World'. He purchased and restored this plane in 1978.
It was later donated to the EAA on 21st May 1979. The staff at EAA Oshkosh, Wisconsin, along with volunteers spent over ten years overhauling and restoring the airframe of this aircraft.
Aluminum Overcast is now one of the most recognized B-17s. This is primarily due to the fact it tours extensively – with over 1,000,000 flight miles so far and still going.
The colors of the 398th Bomb Group of the Second World War are carried on Aluminum Overcast; this bomb group flew hundreds of missions during the War; over dangerous Nazi-held territory.
The aircraft was given its name in commemoration of B-17G, serial number 42-102516 that was downed over Le Manoir, France.
This happened on 13th August 1944 and was on its 34th combat mission.
https://www.youtube.com/watch?v=hjSX1LhHMDM