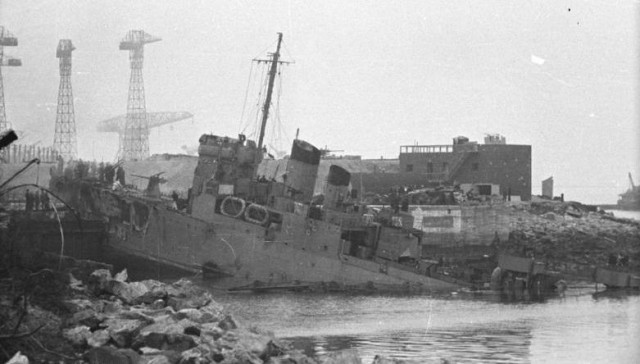 On the 70th anniversary of one of the most dangerous raids, known as the Greatest Raid of All, has been commemorated at the Prince of Wales Pier in Falmouth, Cornwall in South West England.
On March 28 1942, around 600 soldiers departed from Falmouth port along with Royal Navy destroyers, including HMS Campbeltown and more than 15 other smaller vessels.
The mission was to destroy the dock at St Nazaire on France's north west coast of Brittany. At the time the Nazi warship, the Tirpitz, was causing massive losses to the Allies. So Churchill and his military commanders came up with a plan to destroy the only dock that could possibly host the Tirpitz for repair and maintenance.
The HMS Campbeltown rammed the gates of St Nazaire's docks rendering them unusable for the duration of the war and beyond.
While the operation was a success, the Allies also suffered heavy losses.
The HMS Campbeltown was obsolete by the time of the raid and so could be sacrificed for the mission. Before it left Falmouth the ship was packed with high-explosives that could be timed for delayed explosion. The explosives were also well hidden under steel and concrete casing.
Whilst the Campbeltown just needed to get as close to the dock as possible, a contingent of British commandos took to the actual dock to destroy as much of the facilities and equipment as possible, the BBC News reports.
The mission came under heavy counterattack from the occupying German forces, which destroyed all of the smaller vessels which the Allies had hoped would bring back the commandos. The commandos ended up pursuing an escape route inland, through the town and on into the French countryside.
Once the commandos ran out of ammunition they were forced to surrender to the Nazis. Around a third of the men who left on the mission returned home, with around 170 dead and more than 200 becoming prisoners of war. Meanwhile when the Campbeltown exploded around 400 German soldiers were killed. Nearly 90 awards of honour were presented to those who undertook the raid.
The commemoration at Falmouth has been organised to remember Falmouth's role in the war effort and all of those who fought and gave their lives.
The destruction of the dock at St Nazaire meant that the Tirpitz had to operate at a handicap, without being able to moor.
Around 30 veterans who took part in the mission are still alive today and attended the ceremony. The veterans were Royal Marines, and members of the Merchant Navy and Royal Navy Associations attended the ceremony.