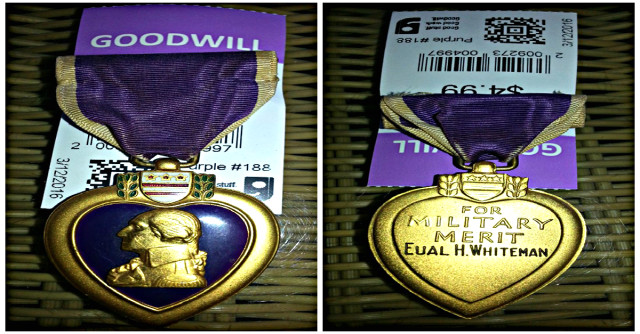 'Goodwill' is a place people go in search of things they want for great bargain prices. It is by no means a place you would go to look for a Purple Heart, one of the highest military medals of honor administered by the United States government. But that is exactly what an Arizona couple came across on their visit to a local Goodwill this weekend. The pair found a soldier's Purple Heart in a bin priced at a measly $4.99 and labeled "purple jewelry." As one of the military's highest honors, any family would cherish this award for a lifetime.
Laura Hardy discovered the purple-and-gold medal and was absolutely shocked when she came across it. Determined to get the medal back to the serviceman's family, she decided to buy it and track down the veteran.
The name Eual H Whiteman was engraved on the back of the badge. With such a unique name, Hardy felt like she had a good place to start her search. She took a picture of the medal and posted it on her Facebook page. Social media platforms were her way of trying to find one of the serviceman's family members, and the idea worked! The post was shared more than 91,000 times. When the post was finally sent to a group called Veteran Buddy Finder, it was able to locate Whiteman's former sister-in-law, Phyllis Lawson.
Lawson was contacted and even offered to reimburse Hardy the $4.99 she paid for her purchase at Goodwill. Of course Hardy did not accept the money, and simply chalked up the act as being her "good deed for the day."
Eual H. Whiteman died in 1991 and is buried at Willamette National Cemetery in Oregon. He was a decorated veteran and  a hero of WW II. After the military he went into a very different line of work; He was a stuntman in the 1967 film starring Sally Field and Kirk Douglas in The Way West. What is even more amazing about this whole story is that Whiteman's father was also a Purple Heart recipient. Sadly, he never knew that his son followed in the same footsteps.
Lawson is 68 years old and resides in Missouri. She used to be married to Whiteman's younger brother and offered a theory behind the how the medal landed in Goodwill. She thinks the medal was in a box of his nephew's things that were donated without being properly looked through. Lawson got divorced in the 1980s and her ex-husband died just a couple years back in 2013. However, finding the medal has brought her great joy. She intends to share the prized award with all of Whiteman's living relatives. Such a legacy can be hard to come by, and she sees it as a precious thing that should be treasured and passed on to future generations.