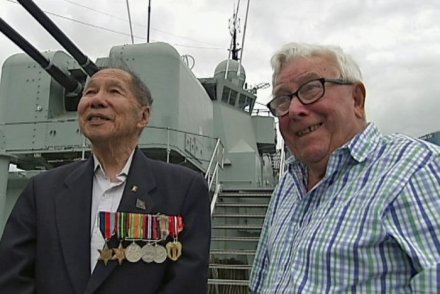 Two Australians were almost killed in an RAAF Dakota crash during the Second World War, when a British destroyer arrived and rescued them from the seas of Southern Hong Kong.
Gilbert Jan signed up for the Royal Australian Air Force (RAAF) in 1942, shortly after the bombing of Darwin. He remembers two of the Darwin raids, before the army asked him and and his family to leave the place. They moved to Alice Springs, Adelaide, Sydney and he signed up for the Air Force when he turned 18 years old.
He went on several missions in Catalina planes and was assigned with resupplying Australian troops. In 1946, he was coming back from a routine raid in an RAAF Dakota plane, when the entire crew had to abandon the aircraft and jump into some rough seas in Hong Kong. While three of the crew members drowned, Jan and five others were able to hold on to a life raft.
They stayed there, in the sea, all day and all night, praying and hoping they would get saved, when "the searchlight came on and they picked us up," said Jan. They were rescued by the HMS Tenacious destroyer and Liverpool sailor Tom Fogg. "We were basically really keen and excited that we found them because that's the be all and end all," said Tom Fogg. But the two men haven't seen each other for 68 years.
Tom Fogg's family contacted Jan's daughter on the internet after they found a 2010 newsletter about him. Rosyln Jan was very happy to talk to Mr Fogg's relatives, saying they connected immediately and that was very excited, knowing that her Dad was saved by Tom 68 years back, the AU News reports.
Tom's son-in-law, Mr Peter McDonnell said he is extremely excited for 'Tommy', who must be over the moon to see the man he rescued from the seas such a long time ago. While this was the year for them to finally meet, when Mr Fogg's family arrived in Sydney, they found out something they would have never guessed.
Tom's grand-daughter was getting married and this was the main reason he went to Sydney. But when they got there, they found out Mr Jan lived on the same street.
The two men went to visit a destroyer similar to the one engaged in the rescue mission – the HMAS Vampire.
"As you grow older you start to remember things and think and wish you could meet the people that saved you," said Jan.