Sidney Walton, a globe-trotting ninety-year-old and veteran of the Second World War, has only one regret: that he didn't jump at the opportunity, in 1940, to meet one of the only remaining veterans of the American Civil War. So now he's on a mission to visit all the states of the union to ensure that anyone who wants a chance to meet a legitimate veteran of the Second World War will have the opportunity he failed to take up.
A native New Yorker, Walton's journey is called the "No Regrets Tour," and it started in March at the National WWII Museum in New Orleans. He has since met five governors, including Gov. Andrew Cuomo in Albany on Friday, May 18th.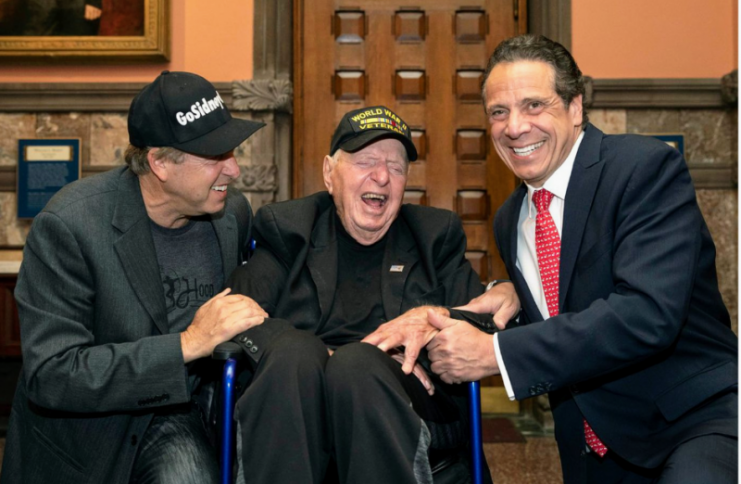 The three weeks previous, he had enjoyed statehouse meetings with the governors of Rhode Island, Maine, Massachusetts, and Connecticut. He intends to meet with the President of the United States, Donald Trump, on his one-hundredth birthday.
Sidney admits that his primary regret in life was turning down the opportunity to meet with veterans of the Civil War in Manhattan's Central Park prior to his own enlistment in the army in 1941.
Sidney Walovnick was born in 1919 on Manhattan's Lower East Side to Eastern European Jewish immigrants. Sidney grew up in Brooklyn before changing his last name to Walton.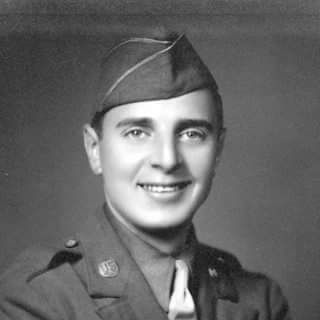 Walton's military service was in the China-Burma-India region after he broke his ankle during combat training in 1944, stalling his destined involvement in the battle for Europe with his infantry unit. Ultimately, he received his discharge in 1946.
Walton went home and got married and worked as a chemical engineer until his retirement. Now he's joined by his 62-year old son Paul, who left the hotel business years ago to take care of his aging father, as he intends to visit each state capital.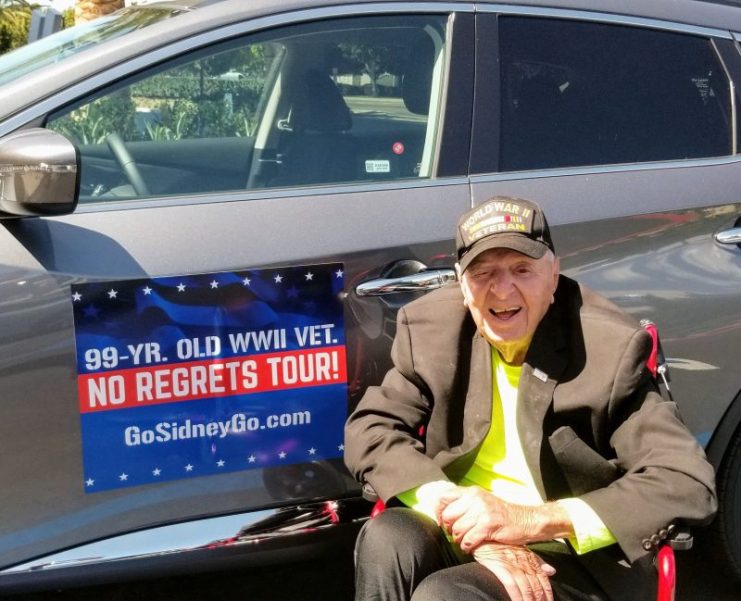 Walton's most fervent hope regarding his "No Regrets Tour" is that he can raise awareness regarding the rate that veterans of the Second World War are dying off. His intention is to extend the opportunity to meet with him and chat with a survivor of the Second World War to as many people as he can.
When his father turned 94, Paul realized that his father may not have much time left, and all he had been doing up till then was keeping him in San Diego when there was so much more life left to be lived. So Paul sold most of his belongings and together they started this journey to travel wherever life called.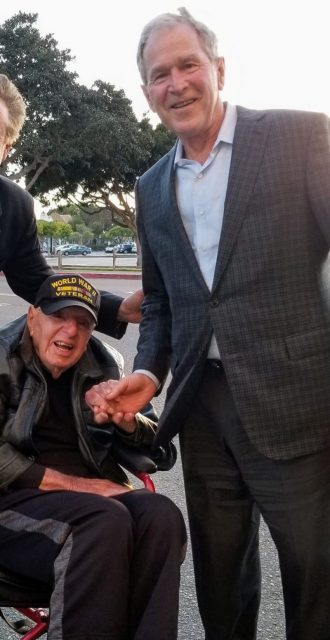 The trip has taken them to thirty countries and has included attendance at events like Mardi Gras, the Stanley Cup Playoffs, the Super Bowl, Oscars, Emmy and Tony Awards.
Sidney even has his own website chronicling his exploits, including meeting with the Dalai Lama and Britain's Prince Harry. They have also met a not at all exhaustive list of pop culture stars including Katy Perry, Usher, John Legend, Nicole Kidman and more. Rihanna wore his WWII visor during a concert as a salute to the veteran. In a bid to experience 119-degree heat, they drove on a whim to Anza Borrego. The website chronicling the Waltons' journey is called GoSidneyGo.com.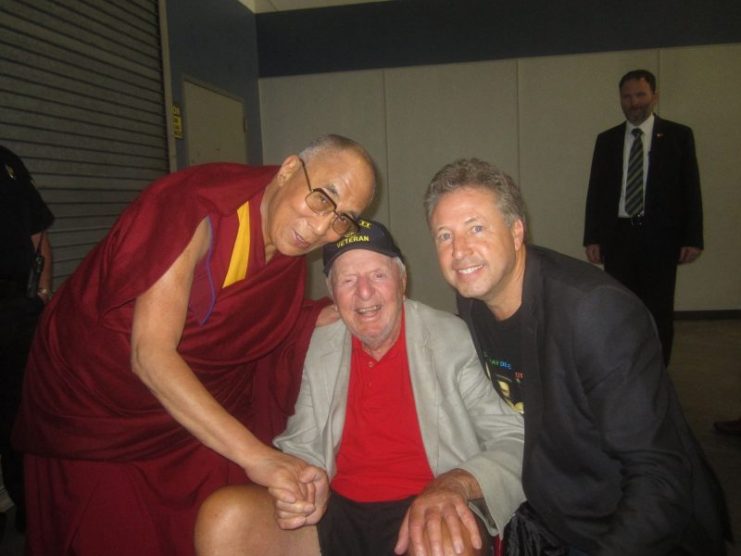 "It feels so good to do this for my dad," Paul Walton said.
After a private meeting with the Waltons, Governor Cuomo presented Sidney with the Governor's Medal for Public Service. The next step in the journey for the Waltons was the Central Park Boathouse on May 18th, where he hoped he could provide some young man or woman the opportunity to do what he passed-up all of those many years ago – meet a veteran of a war long since passed.