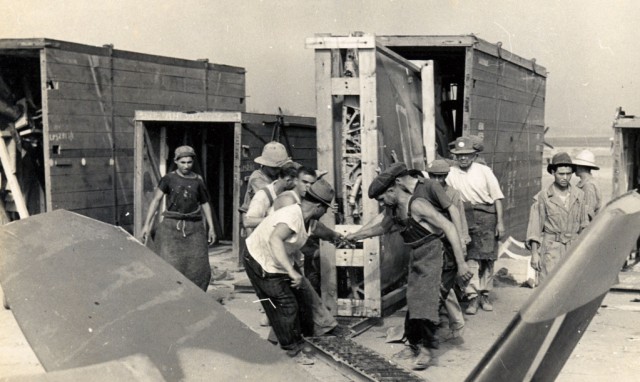 Situated in Louisiana, the Kisatchie National Forest covers an area of around 604,000 acres, it may be a treasure trove for WWII enthusiast as military vehicles, including fighter planes may be buried there!
A National Forest since 1930, Kisatchie is home to many rare animals and plants and contains unique habitats, such as seepage bogs and one of the few remaining areas of calcareous prairie in America.
In 1941, prior to the United States declaring war, the camp was used as part of the Louisiana Maneuvers, a 400,000-man training exercise involving two imaginary countries fighting each other. The two armies faced each other across the Red River, over 3,400 square miles of land, part of which was in East Texas.
Several camps were established, with a total area of over 93,000 acres being set aside for their use. One of these training centres was camp Evangeline, later renamed Camp Claiborne after William C.C. Claiborne, the first governor of the State of Louisiana. Camp Claiborne was expanded in size in 1939, and from then until 1945 more than 500,000 men were trained there.
From 1939 to 1946, over half a million men went through Camp Claiborne. The camp was mainly used for basic training and artillery practice, special service forces training was also conducted there, including railroad battalion training.
Towards the end of the war, Claiborne was used to house German Prisoners of War. The camp was closed in 1945 and returned to Kisatchie National Forest administration.
Today the US Air Force still uses a bombing range on a part of the land set aside in 1930, but otherwise the camp has largely disappeared and has returned to being a forest, with only traces of structural foundations still in evidence. Claiborne's story may not be over yet, however.
In 1981, Morton Hurston Jr. was working in the Baton Rouge Sherriff's department when a chance conversation set his mind racing. He was told that in 1943, three huge trenches had been excavated at Camp Bastion.
When Peters was in the Navy Reserves in the 1980s, he knew men in an antisubmarine squadron who had an aerial magnetometer. He asked them if they could explore the area.
"They flew over and did a magnetometer sweep," Peters told theadvocate.com. "They said there was so much junk down there, 'we couldn't tell what was down there. It just blew us off the screen.'"
A railroad line had been laid and large amount of heavy military equipment had been off-loaded and deposited in the trenches. The excavated soil had then been replaced, leaving three berms (small hills) as the only evidence of what had happened. No documents have been traced that could shed any light on the matter, but Hurston believes that WWII military vehicles including P-40 fighter planes were buried in packing cases.
Why buried there? Hurston thinks because it was no longer state-of-the-art and had been sold to China. However, delivery wasn't possible because Japanese forces had cut off land access to that country. So, to prevent sabotage it was buried and, it seems, forgotten.
The equipment was packed in anti-corrosion material, and if it can be recovered it may be in an excellent state of preservation.
If all this is true, the potential for military museums is enormous – only six P-40 planes are still in flying condition.
Hurston wants to excavate to see if all this equipment actually is buried, but he faces a wall of bureaucracy. The land falls under US Forest Service administration, and permission is needed before any work can start. At the moment, the process is at a standstill, but Morton is optimistic.
Watch this space for further news but we are sceptical!