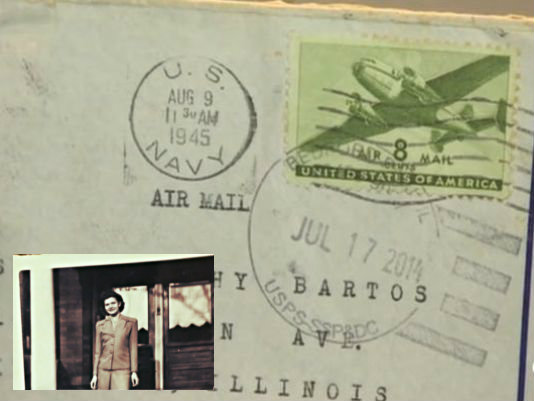 Two WWII love letters from a Navy man were finally delivered to his lady love after nearly seven decades from the date they were sent.
After a seventy-year delay, the two WWII love letters penned by a Navy man, Al Fragakis, were finally delivered to their intended recipient — Dorothy Bartos Calberg who now lives in an assisted-living facility in the Chicago area.
According to reports, these two WWII love letters were recently dispatched to the old address where Dorothy used to live years before. The present owners of the said home, in turn, tracked her down and had the WWII love letters shipped to her.
The WWII love letters were dated July 24 and August 9, 1945 respectively, the year when World War II was winding down. Navy man Al Fragakis wrote them while stationed in the Navy's Coronado Heights Annex in San Diego.
Navy serviceman Al Fragakis used to date Dorothy. However, any development in their relationship was cut down when he was shipped off to San Diego. In one of the two WWII love letters, Al wrote about one thing he regretted not doing while dating the once young woman.
"You were the last girl I've been out it and I am sort of disgusted with myself for not even trying to kiss you,"  his line said.
When asked what she thought about it, Dorothy laughingly but primly replied: "My mother wouldn't have liked it".
When asked if she could still remember who Al Fragakis was, Dorothy answered yes. She recounted him as a nice guy. She added that her dad was very strict when it came to her suitors, but he liked servicemen as he believed they were decent. Nevertheless, after the brief courtship, the two never crossed paths again.
Dorothy, on her part, went on to marry a military man Victor. The couple was blessed with six children and stayed married for 62 years. Victor died in 2012.
Sandy Jacobson, one of Dorothy's children, commented on how there was more from her mother's life that they, her children, weren't aware of. She also added that the "what if" questions will always remain now that the WWII love letters have surfaced.
"Who knew what could have happened had she received these WWII love letters on time," she remarked.
On the other hand, attempts to contact Al Fragakis or any of his relatives were, up to this day, unsuccessful.
https://www.youtube.com/watch?v=wHqkF2FcuA4