A mysterious WWII love letter which remained unopened for the past seven decades was finally unlocked Thursday, March 3, and revealed the the love of WWII soldier amidst the backdrop of war.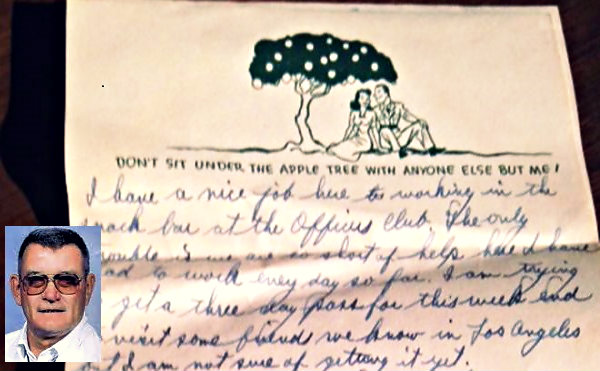 According to Fox News, Sheila Polk found the sealed message tucked in between the pages of a WWII history book she bought at a thrift shop in Florida. The letter was addressed from one soldier to another. At first, Polk did not want to open the envelope. However, upon learning that both the letter's sender and supposed receiver no longer lives and with permission from Postal Service officials, she unlocked it.
The letter did turn out to be a love note to her delight. She had imagined it as such the first time she saw it.
The WWII love letter was dated May 26, 1945 and was penned by Sergeant Albert C. Alm, Jr. of Army Airfield located in Palm Springs, California. Its loving words were directed to Private First Class (Pfc) Helen Rothurmel of the 555th WAC Squadron located in Love Field, Dallas.
The WWII love letter was written on a stationery with an image of twosome sitting under an apple tree with the caption: Don't sit under the apple tree with anyone but me…
Alm started his letter to Rothurmel saying that maybe she was thinking he was assigned overseas again. His words hinted that Rothurmel had been writing to him frequently but he was not able to write back and was quite behind with informing her about his whereabouts in the army.
Alm's words in his handwritten WWII love letter were full of longing to be back home with a hint of weariness at being part of the war. He put into account his new job at his new assignment and how he was with some comrades who came from overseas but he was aching to see someone from "back home".
He also wrote about how glad he was to see her "that morning at church" giving the idea that he was given a furlough and was able to see her on his short vacation stint from work. However, he apologized to her for not being so talkative that time.
His parting words were of an apology for not writing to her sooner and he ended his WWII love letter with: "love, Al".
Sheila Polk, who describes herself as a romantic, holds Alm's message to Rothurmel, though void of flowery love words, was clearly a WWII love letter and that Alm was in love with the servicewoman.
The letter had the word "free" on the spot where a stamp was supposed to be placed as letters sent from military bases did not need postage. Three date stamps posted on the exterior of the unopened envelope indicated that the WWII love letter probably did not reach Rothurmel's hands.
The WWII love letter's sender Albert Alm passed away in 2009 at the age of 88. He never got married. His obituary stated that he mostly resided within New Carlisle, Indiana. He worked as a salesman for Interstate Bakeries and retired at the age of 60.
Alm was born in Chicago and was a WWII Air Force veteran. His obituary further accounted that he was a life member of the VFW Post 9423, Rolling Prairie, American Legion Post 297, New Carlisle.
For full 30 years, Alm placed American flags on graves of fellow veterans at Olive Chapel Cemetery on Veterans Day. He was also the flag carrier in the New Carlisle parade for 50 years.
Fox News contacted Alm's surviving brother, Richard, who is residing in Sarasota, Florida. However, he stated that he never knew any woman named Helen Rothurmel and refused to give more comments when probed further.
Helen Rothurmel, on the other hand, died in 1990. Born on 1922, she was originally from Indiana like Alm. Rothurmel joined the army in March 2 of 1944 and was a private in the Women's Army Corps.
She later got married and bore three children before moving to Lakeland, Florida in her later years. Surprisingly, this is the area where the book and the letter was found leading Polk to believe that Rothurmel may have received the letter but then chose not to open it.
She discovered the WWII love letter last month in a book entitled World War II on the Air: Edward R. Murrow and the Broadcasts that Riveted a Nation and accompanying it was a CD narrated by Dan Rather who was a former CBS News anchor.
Sheila Polk was saddened upon reading the words in the WWII love letter knowing that Helen Rothurmel never got the chance to read them. It broke her heart knowing that Alm and Rothurmel were kept apart because of their military status.
Sheila states that she believes Albert Alm must have loved Helen so much he never got married with anyone else. She also feels that through his WWII love letter, Alm's handwriting was expressing love from beyond the grave.