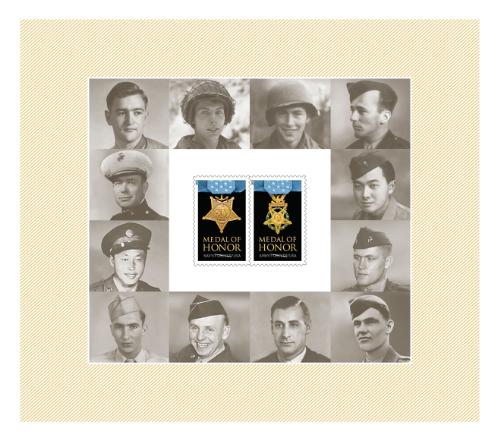 The Medal of Honor: World War II Prestige Folio Forever stamps can be found at any post office nationwide and also online at usps.com/stamps or at ebay.com/stamps. Postmaster General Patrick Donahoe hopes the new stamps will provide people with a new way to remember and preserve the memory of these heroes and their stories for generations to come. He is calling on people to use these stamps and mail them all across the country and around the world, or maybe just keep them for their children and grandchildren, for them to know these stories like we know them today. "Let them serve as small reminders of the giant sacrifices made by the heroes of World War II," he said.
Some of the World War Two Medal of Honor recipients who joined in dedicating the stamps were: past President of the Congressional Medal of Honor Society/Marine Corps retired Colonel and Vietnam War Medal of Honor recipient Harvey "Barney" Barnum, widow of Army Second Lieutenant/Senator Daniel Inouye, Irene Hirano Inouye of Honolulu, Hawaii, Army Master Sergeant Wilburn Ross of Dupont, Wash and many others.
Army Master Sergeant Wilburn Ross recalled one of his experiences on the front, in October 1944. He was near St. Jacques in France and his unit lost almost all its men. Only three of them were still alive and fighting a German company. He wounded and killed 58 Germans in about 5 hours of constant firing and he was able to save the survivors of his company. He didn't leave his post for 36 hours. Ross insisted that at the time, the Medal of Honor didn't mean that much for him and that he just did what he had to do, without thinking too much about it. Finding himself among all the recipients of the Medal of Honor, he does feel grateful and special to be associated with them, the LehighAcresCitizen.com reports.
The four-page design includes photographs of the Navy version of the Medal of Honor, the Army version, a list with all the 464 servicemen and women who were awarded the Medal of Honor in the Second World War. 18 other stamps can be found on the last page.
Although 464 were recommended for the Medal of Honor, almost half of them died before being awarded and received the medal posthumously. At first, 12 living veterans were called by the Postal Service to have their photographs on the new stamps. Today, only eight of them are still alive to see them.