https://www.youtube.com/watch?v=Ls4CsWgLEGU
The US Congress awarded the Congressional Gold Medal – the highest civilian award – to the surviving members of the WWII commando unit Devil's Brigade Tuesday, February 3, in a one-hour long ceremony at the Capitol Visitor Center.
The said awarding ceremony was attended by a crowd composed of about seven hundred individuals including forty living members of the said WWII commando unit.
It can be remembered that in 1942, a band of lumberjacks, miners, hunters and farmers coming from the United States and Canada came together at a US Army base situated in Montana and went under training for several months. From this training emerged warriors known as the WWII commando unit Devil's Brigade. Their trademark were their fierce fighting tactics and their knack for using black boot polish on their faces.
The WWII commando unit Devil's Brigade was made up of 1,800 Americans and Canadians and was officially known as the First Special Service Force. Their specializations during the Second World War including hand-to-hand combats and mountain warfare and excelled particularly in mountain climbing, amphibious landings and parachute jumps during nighttime raids.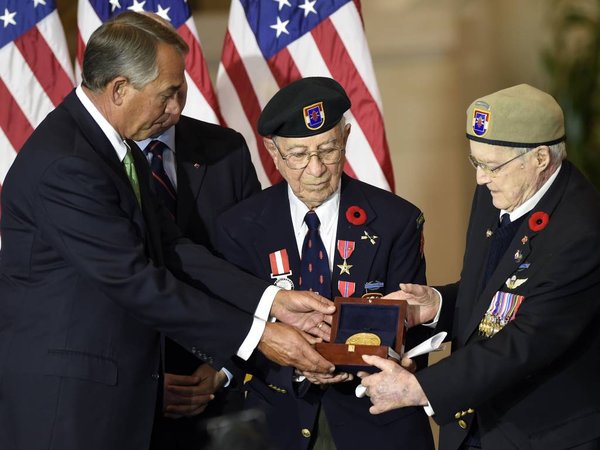 By the time WWII ended, the commando unit caught over 30,000 prisoners, went on to win five US Campaign stars as well as eight Canadian battle honors and played a vital role in the liberation of Rome from German forces in 1944.
House Speaker John Boehner, in his tearful speech, said that "this band of men saved the free world". He added that one of the remarkable features of the commando unit was how they quickly they came and bonded together. The Devil's Brigade was activated in July of 1942, went and completed their first mission in 1943 and was disbanded in December of 1944.
Furthermore, the commando unit became the precursor of the modern special forces like the Green Berets.
WWII vet and Devil's Brigade surviving member Eugene Gutierrez Jr. of Texas was the one who accepted the honor in behalf of the whole commando unit and its members, both living and dead.
https://www.youtube.com/watch?v=j59v_aV89yI