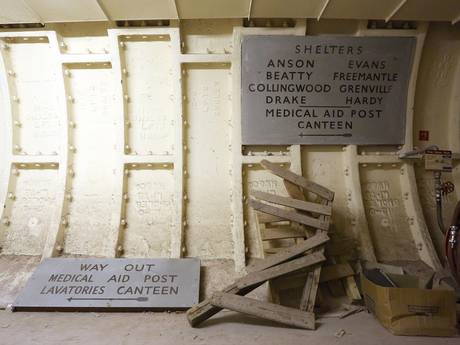 A WWII bunker is now open to renters in London. Located one hundred feet below the surface, the bomb shelter in question is one of the deepest in all of London. It can fit thousands of bodies underneath Clapham South, and houses a spiral staircase of over 150 steps. Owned by the London government, the tunnel is one of the last of eight remaining from the days of the blitzkrieg. The others are already rented for storage of film and other goods, one of the most interesting uses being a subterranean farm ground. The WWII bunker in question, however, is still unused.
Made of two connected train tunnels, the shelter was created in the midst of German air attacks in WWII. While its creation was not fully finished until 1942, they knew at least a decade beforehand that such a shelter might be needed. To this day, one can see bits and pieces of what the bunker originally looked like—while they are not all in great condition, it still houses the same kitchens, lavatories, and medicinal areas.
Darkness surrounds the stairs leading down to the bunker, and old torches must be utilized as a result. The most interesting thing about the lack of better lighting is that much of the bombardment had subsided when the staircase was erected; however, it was anticipated that after that point, the bomb shelter would receive much less use. If not for further attacks in 1944, the bomb shelter may have actually gone unused for the rest of WWII, The Independent reports.
This tunnel at Clapham South was actually one of the few to find some usage after the events of WWII. It was used to house migrant workers in 1948, and just five years afterward it was used as a hostel. It still receives visits, though not all of them are wanted. Some war fanatics, who are specifically interested in bunkers, have broken in to take video footage of the location.
Those wishing to rent out the old WWIIbunker will need the ability to pay £100,000 per year. It certainly isn't the type of place one would want to live, though as many have discovered such tunnels make for decent storage facilities. The site has also been used as a film set when a '60s episode of Dr. Who was shot there. Due to health and safety codes, it probably could not be used for anything too public, but the bunker certainly holds a public interest for those Londoners who wish to become more acquainted with the WWII history of their home city.
//