Seventy years after the war, Barbara O'Brien received the call that the remains of her father, Robert Mains, had been positively identified and he was finally coming home. He was buried with full military honors in Wading River, NY. Robert Mains was the recipient of the Purple Heart and the Air Medal with three Oak Leaf Clusters.
A search by American officials in 1948 failed to locate Mains' body. A search in 2007 recovered some fragments of a leg bone. Other bones were recovered during excavations in 2014 and 2015. Mitochondrial DNA tests conducted on the bone fragments in September 2017 matched two relatives of Mains' mother. There was also other material evidence gathered that related the recovered bones to Mains which led the Defense POW/MIA Accounting Agency (DPAA) to positively identify the remains.
One month before Germany surrendered, ending the European theater of World War II, 1st Lt. Robert L. Mains piloted a B-24 Liberator bomber into Germany with the 714th Bombardment Squadron/448th Bombardment Group, 2nd Bombardment Division. 400 planes took off that day to attack airbases located at Parchim, Perleberg and Wesendorf, Germany. He was looking forward to going home to his wife and new baby daughter soon.
Instead, his plane was shot down south of Hamburg on April 4, 1945, and the 27-year-old Mains was killed. German fighters attacked and caused an explosion in his plane over Ludwigslust, Germany. The plane went into a dive. Only one crew member survived the crash to be captured by the Germans after parachuting into Ludwigslust.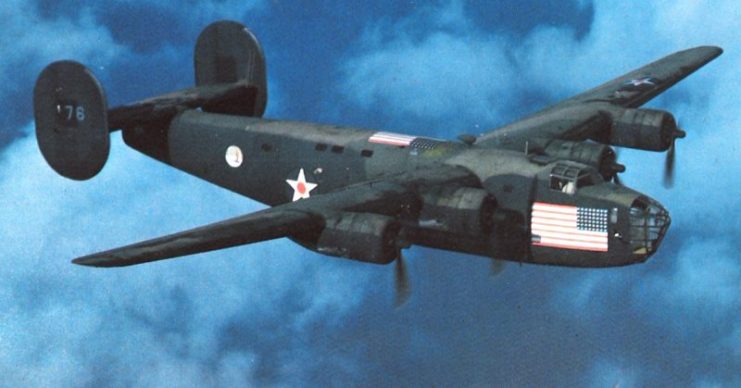 Mains met his wife, Alice, when they were both working for the Will Corp in Rochester, NY. Alice was 21 when they married. They had one daughter, who Mains got to hold just once before he was called to duty overseas. Like many brides of the era, Alice was married when she was 21, a mother when she was 22, and a widow when she was 23.
Barbara O'Brien, the daughter of Robert and Alice Mains, does not remember her father, but she has learned about him from the letters her mother kept. She learned that he cared for and loved his wife even while away, fighting in the war.
She never expected her father would ever come home from the war, but she said she felt his presence throughout her life. She recalled an incident decades ago when a catamaran accident threw her — a nonswimmer — into the waters off Florida. "This is how I'm going to die," she thought, "and it was just at that time I thought 'my father is watching over me.'" She was lucky to survive the incident.
Rochester has a memorial to Mains in the Holy Sepulchre Cemetery. Mains' name is also recorded on the Tablets of the Missing at the Netherlands American Cemetery (which is an American Battle Monuments Commission location). They will put a rosette by his name to represent the fact that he has since been located.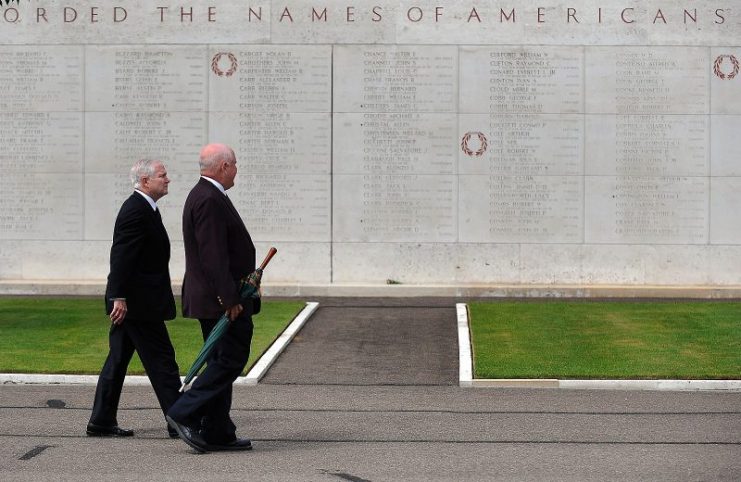 Out of 16 million Americans who served in WWII, over 400,000 died in the war. There are still almost 73,000 services members whose whereabouts are unknown.
The B-24 Liberator was an improvement over the B-17 Flying Fortress. It had a better-designed wing and better performance with faster airspeed, longer range, and the ability to carry a heavier bomb load. But with all the performance improvements, it was seen as less durable than the B-17 and less likely to get its crew back home if it ran into trouble on a mission.
B-24s also had a higher accident rate than the B-17. Experts attribute a lot of these problems to the new design that was rushed into production during the war. The same issues plagued the P-38 Lightning, P-47 Thunderbolt, B-26 Marauder and B-29 Superfortress. Still, the B-24 was known as a "widow-maker" due to the high rate of casualties among US Air Force bomber pilots flying these planes.