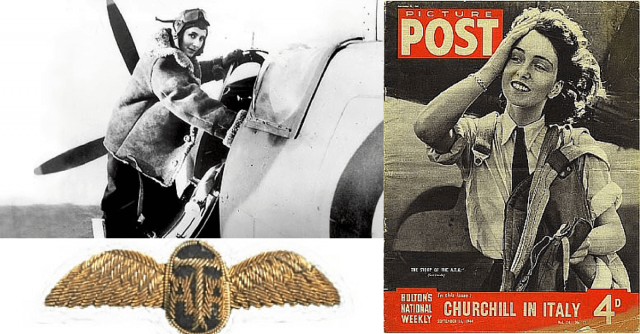 Contrary to the popular belief, women did play an active and vital role in the Second World War wherever it was possible. A large number of women were taking care of wounded soldiers and civilians in hospitals across Europe, while many women worked in ammunition factories. However, very few people know about brave women who actually flew the best aircrafts of the war, and actually contributed to the war.
Famously known as the ATA girls, a number of women pilots were hired by Air Transport Auxiliary during the Second World War. The task given to these women pilots was to ensure a safe transport of the aircrafts needed on the battlefront.
Some of planes that ATA girls flew were very complex and expensive machines. Spitfire, Hurricane, and Harvard were few of the planes commonly transported by women pilots during the war. They also transported some of the heavy bombers to a number of bases all over Britain.
Although these women were not directly involved in the combat, however their job was equally curial and sometime equally dangerous. As the war grew intense, number of transport trips by the women pilots also increased. Some pilots would receive a 30 minutes dead line to go through the manual and transport a plane they had never flown before. At one stage one out of every six women pilots who took to skies died in a crash, mainly because of a malfunction or weather.
Yvonne Macdonald, 88, and Joy Lofthouse, 86 were the only real 'sisters' in the ATA girls squad during the Second World War. Recalling that moments, Yvonne said that she particularly liked and preferred 'Spitfire'. She added that Spitfire was considered a girls' aircraft by ATA girls due to its compact cockpit and great reliability.
Total numbers of aircrafts transported by ATA girls were more then 308,000 from the factories to the bases and airfields across Britain. Damaged aircrafts were also flown back by the girls, which was a very risky job and did cost a few lives as well, the Mail Online reports.
The role of the Spitfire in the Battle of Britain is widely known and was hailed by then British Prime Minister Winston Churchill. But it was the efforts of ATA girls that ensured a constant stream of Spitfires to the airfields in order to be used in the combat against Luftwaffe. Former Primer Minister Gordon Brown awarded the 'Spitfire Sisters', Yvonne Macdonald and Joy Lofthouse with a commemorative badge in honor of their services during the war.