Editor's note: This article is the first in a two-part series regarding the WWII  experiences of the late Leonard P. Jaegers.
The mission of the Silver Star Families of America—a Missouri-based non-profit—has always been to remember, honor and assist the wounded, ill or dying of our Armed Forces from all wars.
In this spirit, the story of one local veteran truly personifies this endeavor and features a young man suffering a grievous wound in combat during World War II, who was able to overcome adversity and live a long, productive life through the assistance of medical professionals.
His story of love and determination begins in the rural Osage County community of Meta, where a young Leonard P. Jaegers, the oldest of seven children, grew up on his family's farm.
"When my father received his draft notice and had to report to Jefferson Barracks (St. Louis), he was engaged to my mother, Helen Wankum, who grew up near him on a neighboring farm," said Jaegers' son, Robert.
Military records indicate the 21-year-old Jaegers was inducted into the U.S. Army on August 17. 1942, and, after being given a few days to travel home to help his father put up hay on the farm, returned to Jefferson Barracks to complete his basic training.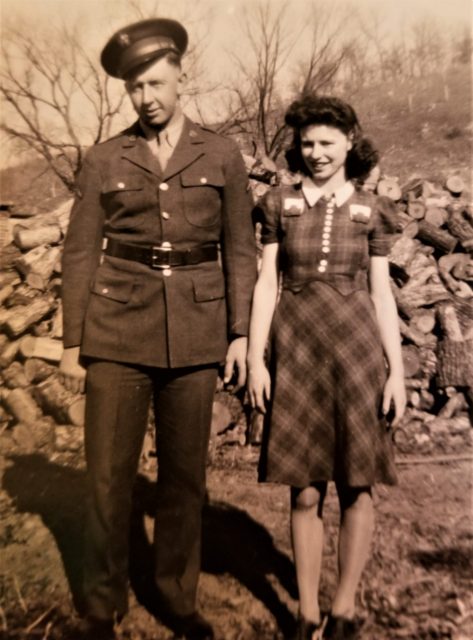 In a summary of Jaegers' service written by his late wife, it was noted that the young soldier "boarded a train and headed west for Denver."
His wife went on to note that he was assigned to the military police department; however, after volunteering to serve in the kitchen and impressing the mess sergeant with his culinary abilities, Jaegers was sent to cooking school at Ft. Riley, Kansas.
"Dad said that he thought that he had it kind of easy being a cook and decided that he wanted to get into some of the 'rough' stuff," said James, another of Jaegers' sons.
"That's when he volunteered to be a combat engineer and the Army sent him to Ft. Leonard Wood for more training," he added.
The new duty assignment provided the soldier with a slate of new skills soon identified as those needed to replace the combat losses from fighting during the Battle of the Bulge. He departed Ft. Leonard Wood on Christmas Eve of 1944, bound for Paris, Texas, for six weeks of infantry training.
In early February 1945, Jaegers received a brief delay en route to his next duty assignment, affording him a few days back home to visit with his family and fiancée.
His wife wrote, "On the last night of his leave, we went to a dance and Leonard asked the band to play 'Over the Way Waltz,' and we danced and danced.
Little did we realize that this would be the last time that we would ever dance together again," she solemnly explained.
Boarding a train in Jefferson City, Jaegers said his goodbyes to his fiancée and family and made the trip to Camp George E. Meade, Maryland. Two weeks later, he was transferred to Camp Shanks, New York, and boarded a transport ship bound for France.
Shortly after his arrival in LeHavre, France, he was processed as a replacement soldier with Company F. 310th Infantry Regiment of the 78th Division.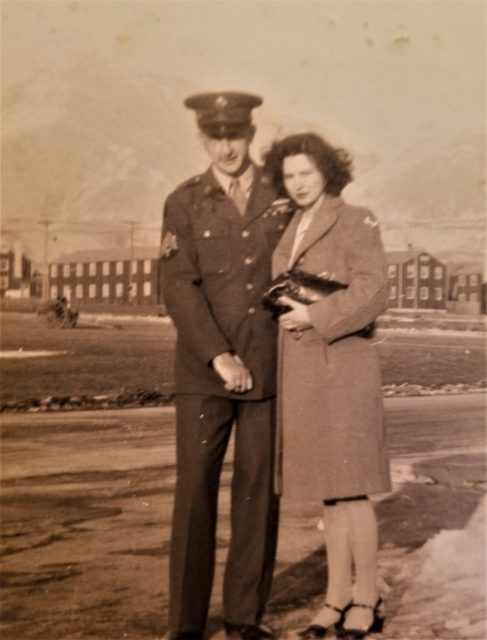 "Mom's records state that our father and several of his fellow soldiers boarded box cars and rode the train for several days to the front lines," said his son, Robert.
"He wasn't there for very long when he became part of a mission that affected him for the rest of his life."
On April 6, 1945, after the regiment was recovering from an exhausting battle against unwavering German forces, Jaegers was in a foxhole with two of his friends when bullets began whizzing by them.
His fellow soldiers were killed while one bullet penetrated Jaegers' helmet, striking him in his skull.
Since Jaegers lay unresponsive and had brain matter dripping from the severe wound to his scalp, he was presumed dead and his body removed from the foxhole and placed next to a group of soldiers who had been killed in battle.
In a fortuitous moment, a chaplain who was blessing the bodies of the deceased observed that Jaegers was still alive, calling for a medic to come and provide immediate assistance.
The medic placed the brain matter back into Jaegers' skull and then wrapped the wound.
"Our father lost his memory when he was wounded and did not recall much of the fighting years later," said James Jaegers.
"Dad's military records show that he was first evacuated to a field hospital in Germany and was later sent to France and then England for treatment. The chaplain sent the family a letter saying our father was alive but was in serious condition."
Jaegers was eventually transferred back to the states, arriving in New York and taking a train to Brigham City, Utah, for care at Bushnell General Hospital. The veteran's wife wrote years later, "The Red Cross nurse wrote to us about his condition."
She further detailed the seriousness of her fiancée's wound, writing, "He had more surgery on his head. … His right side was paralyzed. He couldn't talk, walk, read or write. The nurse advised us not to come for a visit until he was a little better."
The days ahead were difficult and filled with both burdens and victories for the wounded soldier as he struggled to regain the abilities that had been torn from him.
It was also a stressful period for his fiancée and his family, as they tried to determine the roles they would play in ensuring his recovery.
Another Article From Us: Grumman TBF Revealed in Amazing Seabed Images
"It was a difficult time for my father and also for our mother," said Robert Jaegers. "But in the coming years, their perseverance and love were promising in our father's recovery and greatly improved his quality of life."
Jeremy P. Ämick writes on behalf of the Silver Star Families of America.