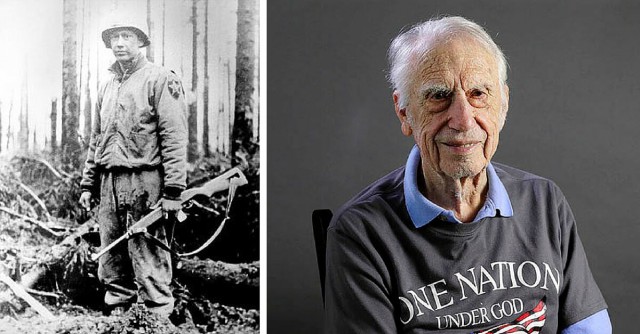 A personal story from World War Two veteran is that of Al Price who served in the US Army's 2nd Infantry Division and drove a jeep during the Battle of the Bulge.
On the 70th anniversary of the end of World War Two Al was honored at a local concert in Tahlequah where Gregory Hines was performing. Gregory asked Al up onto the stage, where he gave a short show of his tap-dancing skills (see below). Al is now in his 90s so it was quite a feat, but says that one of his heroes was Fred Astaire and had always wanted to dance like him.
Al also co-founded the Tulsa World War Two veterans group, where many of the members speak in public about their war time experiences, particularly to schools and the younger generation.
Al says that when he speaks to people about the war there are a couple of key points he likes to make, including that there is nothing good about war and that war is terrible and the enemy will do anything to survive and win.
Al's service in Europe began when he was deployed to take part in the D-Day landings at Normandy on the French coast. Al was just 18 at the time and had only joined the Army a few months earlier. Al was one of the subsequent divisions to land and says that when they got to Omaha Beach there were dead bodies everywhere.
Al drove his jeep for the Captain of his unit, together they covered thousands of miles across Europe, and often he would be on the front line when his Captain had to check that the troops were getting the supplies that they needed.
Al says that none of it was easy, but it helped that he was so young and everyone was very well-trained.
During the Battle of the Bulge, Al's division was fighting against the Germans to take the dams along the Ruhr Valley of Germany's industrial heartland. They were heading back to their base at Elsenborn in Belgium but ran into other American troops who were retreating – the German attack had caught everyone by surprise, the Tulsa World reports.
More than 80,000 American troops were wounded in the Battle of the Bulge and almost 20,000 were killed. Al says he'll never forget the snowy landscape littered with American and German bodies.
Al survived the war and the Bulge, and received a Bronze Star for his service.
Video