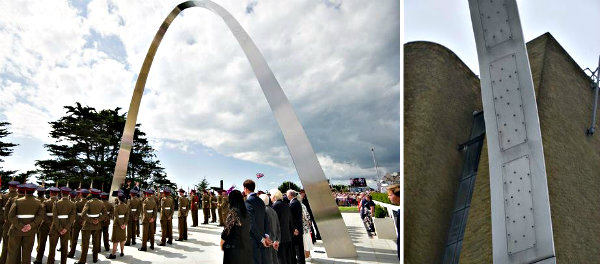 The WWI Memorial Arch put up in Folkestone and was said to last up to one hundred years is already starting to get "rusty" after only five months, reports say.
The said WWI Memorial Arch dedicated to the soldiers of the Great War was unveiled by Prince Harry August of last year at the Step Short commemorative ceremony at Folkestone. However, after only a short five months, the WWI Memorial Arch appeared stained.
Bolts that fasten the sections of the stainless structure together are believed to be the culprit of the problem of the 46-feet high WWI Memorial Arch which had cost £214,000 to put up. The charity organization Step Short has already contacted the arch's makers about it.A spokesman for the organization stated that they intend to right the problem at no cost to the charity as soon as possible adding that the WWI Memorial Arch is much-loved.There were several criticisms when this WWI Memorial Arch at Folkestone was unveiled with some saying it looked like an advert for McDonald's. But soon, people have taken the commemorative structure to heart with many voicing out that it is a great memorial for the soldiers who marched off to WWI's fronts and sacrificed their lives for their country.
It can be remembered that Prince Harry graced the unveiling ceremony of the said memorial and even did the honors of opening it to the public after a 1,000-military personnel parade, which was led by the Band of the Brigade of Gurkhas, took place.