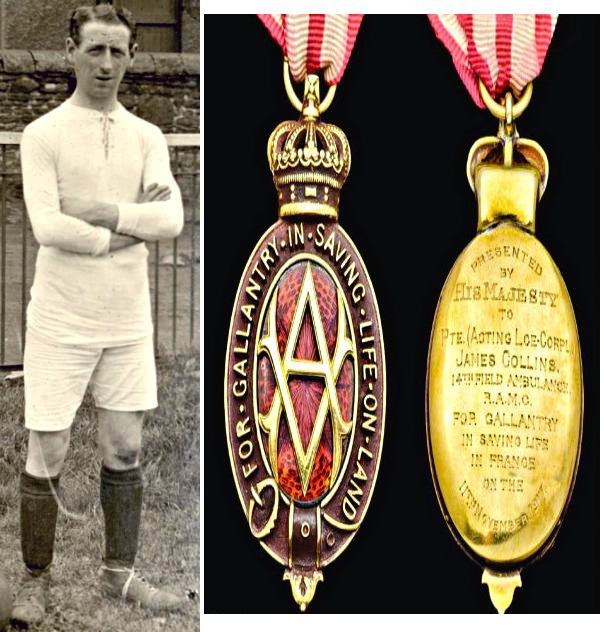 Lance Corporal James Collins not only got through a live grenade explosion during WWI, he went through 14 operations for his injured leg and amazingly was able to play professional football for the next 15 years.
James Collins was an up-and-coming footballer before WWI broke out. He played for the local Dundee team – the St. Joseph's FC. He later on volunteered in the Royal Army Medical Corps. He was stationed at the advanced dressing station in La Bergere, France – which was near Monshyn-le-Roux – with the 14th Field Ambulance.
It was while here that the incident happened.
According to a citation ran in the London Gazette, Lance Corporal James Collins had been escorting a "lunatic" WWI soldier when the latter escaped. James Collins went after him but when he was to close on the man, the other threatened him with a grenade [bomb]. The said WWI soldier then went on to remove the grenade's pin and let it fall on the trench floor. In his bid to save a patient and two other WWI soldier who were witnessing the ordeal nearby, James Collins put his right foot upon the bomb. It exploded, killing the "lunatic" and wounding Collins' foot and lower leg severely.
Fortunately, the witnesses were able to escape the nightmare uninjured.
Lance Corporal James Collins, on the other hand, sustained grave ones as his right foot and lower leg was pervaded with lots of shrapnel. Ha had to haggle with the medics about the removal of his injured limb. In its stead, he went through 14 operations within to years just so it could be righted.
In spite of the injuries he suffered from the Great War, James Collins debuted as Swansea City FC's defender in 1920. He then went on to to lead the Welsh team to an FA Cup semi-final and the Old Third Division Championship.
James Collins went on to play professional football for 15 long years. Throughout his football career, he was able to score a hat-trick against Bristol Rovers in an 8-1 win. He was also able to rise up in ranks and became the captain of the team he was playing with.
Lance Corporal James Collins was later one awarded by King George V himself with the Albert Medal, a rare award which was the civilian version of the Victoria Cross and was later replaced by the George Medal. The king gave Collins the medal at Buckingham Palace.
When James Collins retired from playing pro football, he went on to become a football coach. When WWII broke out, he volunteered for service again with the Royal Engineers.
Lance Corporal James Collins died in 1963. He was 67.
The rare Albert Medal awarded to him was recently auctioned off by Spinks auction house in London and was bought by an unnamed collector at a staggering price of £22,000.
According to Oliver Pepys, Spinks' medal expert, in an interview with The Daily Mail, the deed James Collins did that day in a WWI trench was selfless and was an amazing show of courage. Though, the medical advice was to amputate his leg, James Collins begged medics not to do it in clear desperation that he wanted to revive his football career after the war. In the end, he was able to rise above his injuries and played the sport he so loved.