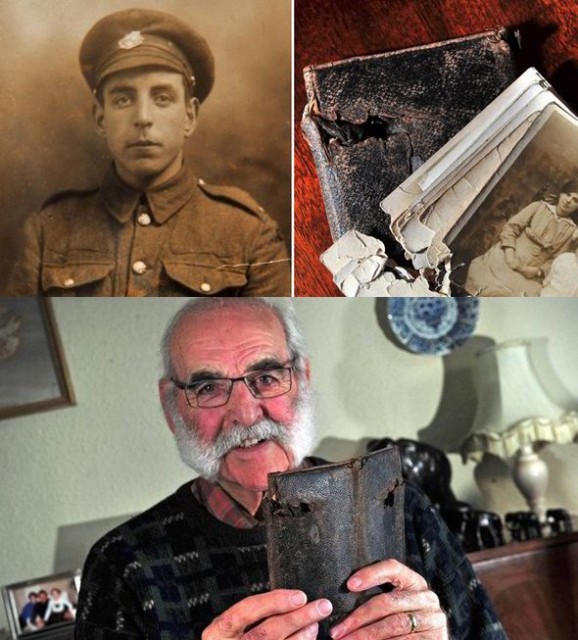 WWI trooper Albert Rice dodged a bullet that would have dealt a fatal blow to his heart; it instead caused a non-fatal wound to his lung and this was all because of the wallet and the nail scissors in his pocket.
The round had already ripped through his wallet's content but thankfully, was deflected by the scissors he had placed in the same pocket as his wallet in his jacket. His exceptional story on cheating death came out in the open after his family got interested in their family history and began delving deeper.
Gillian Rice, Albert's granddaughter found his bullet-hole-ridden wallet with letters and photos which also had bullet holes in them. It was also her who discovered that the nail scissors were also placed in the same pocket of his tunic that fateful day. Had he not put it there, he surely would have died.
"The bullet didn't go into his heart, it went into his lung. It went through everything that was in his wallet. It's just incredible," Gillian said.
Born in Hull in 1898, Albert had only been 16 when WWI broke out in 1914 yet he lied about his age so he could enlist.
"He didn't really talk about his wartime experiences and I was too young," his now 82-year-old son Bill stated.
Gillian knew her grandfather had joined the army in 1915 and was part of the Hull Pals battalions which were composed of men who had worked together in civilian life.
He was shot when he transferred to the Royal Northumberland Fusiliers in 1918.
 "Albert had been in some battles. He had probably been over the top more than once," his granddaughter, Gillian, added.
The contents of his battered wallet included photos of his comrades and a teacher's reference letter complimenting him of being "civil and willing". Albert was captured by the GErmans and was taken to a German hospital after being wounded. He spent the rest of WWI as a prisoner of war.
Kate, his mother, had preserved the letters he wrote while he was imprisoned in a PoW camp.
He penned these words on one:
"You must not worry too much about me but keep me in your heart."