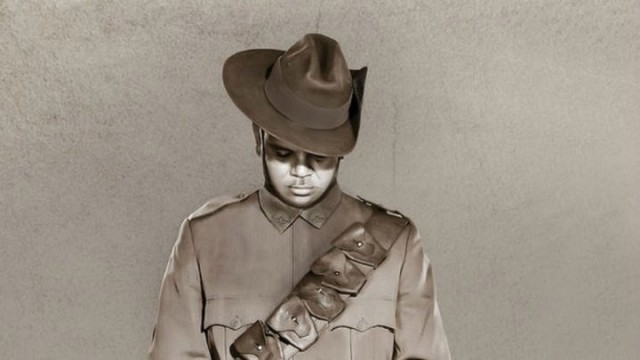 January 20, 2014, France 24 shares a story that highlights the plight the Aborigines faced during WWI.
In the wake of the 100 year anniversary of WWI, Australia is very enthusiastic when it comes to the collective act of remembering those who made the ultimate sacrifice for their nation.
More often than not, the 420,000 Australians who participated in the war—60,000 who did not return home—up to 1,000 of the Australian soldiers (nicknamed "diggers") were Aborigines. These men did not have political rights in their native land, but they still volunteered to fight for King and Country.
In commemoration of the 100 years since the beginning of the Great War, their contribution is being remembered in a theater production called "Black Diggers" at the Sydney Opera House this week.
Only 9 Aboriginal actors are to fill the 100 different characters. These actors will be wearing the uniform their ancestors wore to put remembrance of their sacrifice in its proper place.
Wesley Enoch, the director of the production, told ABC news that it was necessary that the Aboriginal involvement in the conflict was never forgotten.
"Our myth-making as a country is such that we often like to forget our Aboriginal history," he said. "So when you tell a story like this, people say: 'What? There were Aboriginal people at Gallipoli?'"
To prepare for the production, Enoch and Tom Wright, writer, had to do some research for themselves. They were able to meet many descendants of the Aboriginal soldiers and scoured the letters and diaries that are housed in the Australian War Memorial.
They asked themselves why the Aborigines soldiers would volunteer to battle in foreign countries, where in Australia conscription was not introduced at the time and they were considered an inferior race in their native land.
"They lived on reservations and had no money," said Eliah Watego, who is from an Aboriginal family that produced three generations of serving soldiers.
"All of it went to the protectors," he added, referring to the civil servants responsible for overseeing Aboriginal populations. "They weren't allowed to be citizens and this was their chance to make money and to prove that you were someone who deserved to be in Australia."
According to the Australian War Memorial, "many experienced equal treatment for the first time in their lives in the army or other services".
Tom Wright told the Sydney Morning Herald, that years of discrimination had evaporated during the heat of battle.
"In many ways what the black blokes experienced was exactly the same as their white colleagues," he said. "The same horrors, the same shell shock, the same awful deprivations, the same violence.
"The difference was when they came back to Australia in the 1920s, they found it very hard, many of them, to find a place in white society and likewise found it hard to go back to their black communities."
"Black Diggers" features the story of Douglas Grant who was adopted by a Scottish family after his parents died violently. He was raised and educated in Sydney and here, he became a skilled draughtsman.
He first attempted to enlist in 1916 but failed because there were rules that excluded Aborigines from the ranks. As the Australian army suffered more casualties and in the absence of conscription, rules had changed. In 1917, Grant was able to go to France and serve with the 13th Battalion of the Australian Imperial Force.
Grant was wounded and captured at Bullecourt that same year. He spent the rest of the war as a POW in Germany where his status as an Aborigine sparked interested and attention.
When he returned to Australia, he received immediate celebrity status and even had his own radio show. Unfortunately, Grant found it difficult to fit into society. He later turned to drinking and he spent the last few years in a mental asylum.
By giving these Aboriginal volunteer soldiers a voice, 'Black Diggers' is breathing life back into a period of history that has mostly been forgotten.