Volunteers at the National WWII Museum in New Orleans have spent over ten years restoring PT-305 to how it looked in 1944. Patrol Torpedo boats were some of the fastest and most heavily armed boats of their size. John F. Kennedy commanded one in the South Pacific while in the Navy.
More than 70 years after the WWI, Jim Nerison was able to board PT-305 for the first time since the war. He was about 19 years old the last time he stepped aboard. During WWII, the ship was stationed off the shores of France and Italy.
PT-305 is the latest addition to the museum. There are other ships, planes, and artifacts at the museum to see. Soon, visitors will have the opportunity to ride on the only operational PT boat in the world.
The boat was almost not salvageable before the volunteers began their work.
Once the boat was no longer needed in WWII, it served as a tour boat in New York City and an oyster boat in the Chesapeake Bay. What was left of the boat was discovered in Texas. It took more than 200 volunteers and over 120,000 hours to restore the boat to its WWII condition.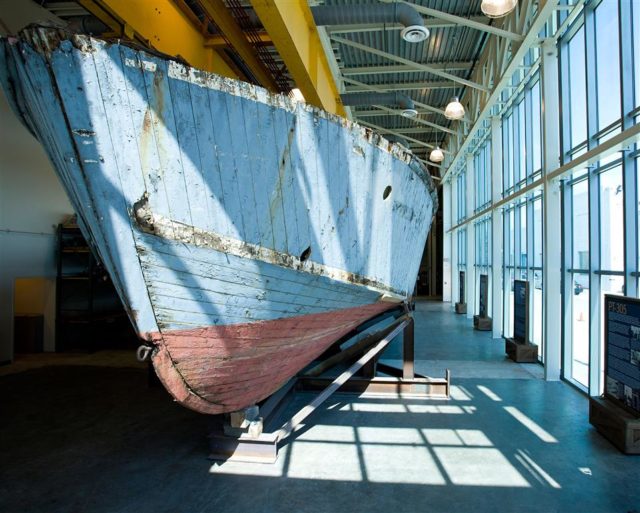 Nerison was speechless when he saw the boat. A torpedo operator in the war, he has stories to tell about his time during the conflict. The torpedos were fired with compressed air and 180-proof grain alcohol. Nerison confessed that the crew would sometimes sip the fuel to get themselves ready for battle. Nerison said that they called it "torpedo juice."
Nerison looks forward to riding PT-305 again with his grandkids so he can show his family what it was like on the boat, CBS News reported.
He still calls it his boat after all this time. "You get attached to a boat, you know… And that's the way I fell about this one. I may not own it but it's still my boat," he said.
PT-305 ran over 70 patrol missions and is still going strong. Beginning next week, visitors to the museum can ride the boat around Lake Pontchartrain. A ticket costs $350. All tickets for April are already sold out.