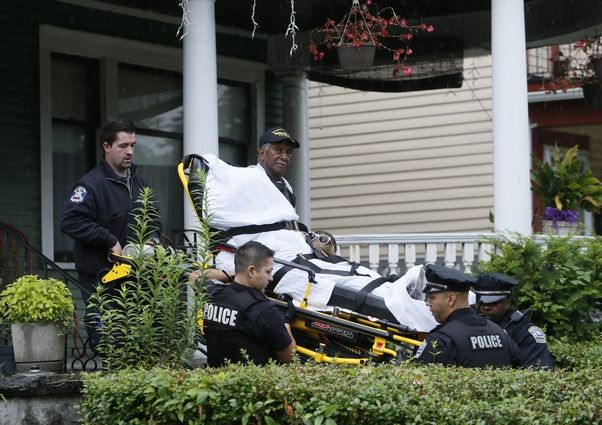 A 90 year old World War Two veteran soldier has refused to leave his home, so authorities have forcibly removed him on a stretcher.
John Hodges, who lives in Buffalo upstate New York, has lived in his home for almost 60 years. He served in the US Navy during World War Two and was presented an eviction notice from his home at the beginning of July.
Even though John has lived in the house for so many years, he took out a remortgage on the property in the 1990s and has since made $100,000 of missed repayments. Over the years, John suffered financial difficulty and had to nurse his wife with Alzheimer's ensuring that the repayments on his loan became unpayable.
The authorities who evicted him removed him to a local Veterans Affairs hospital where he will undergo a health evaluation. Meanwhile movers and packers have been packing up and removing all of his furniture and belongings.
John's daughter, Robin, was present during the eviction and says that John is physically and mentally fit, but he had wanted to stay in the home since he had lived in it for so long.
During the war, John served on a US Navy transport ship and sailed in the Atlantic and Pacific.
The bank involved has said that it has tried to discuss different repayment options with John and his daughter over the past four years. But discussions broke down and the property became foreclosed last year. The sale of the property has been delayed as the bank has tried to find alternative housing for John.
John had taken redundancy from his last full time job at a steel works, and went on to work part time as a school bus driver. By the age of 85, he was no longer able to work and all of the family's money went on providing medical care for John's wife, The Washington Post reports.
Local charities and not-for-profit veterans associations have been involved to try and raise funds to save John from leaving his home, but they have been unable to raise enough funds.
Upon being released from the veterans' hospital, John was found housing at a senior citizen's apartment nearby.