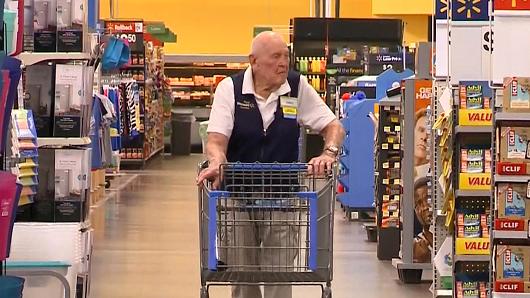 A 103 year old World War Two US veteran, who served in the US Air Force, is still working a full time job in Winfield town, Kansas.
Loren Wade held his 103 birthday party this week with friends and family. Loren started working for Wal-Mart back in the 1980s and enjoys staying busy so has continued working. Loren did try to retire in the 1960s but he found that he was bored and decided to get back into the workplace.
Each day Loren might be on the tills handling sales, taking general care of the store and water the plants, or greeting customers at the store's front door.
The customers know Loren well, seeing him at the store every day. One regular customer said that Loren belongs at the store and is the hub of the community. On the day of his birthday the Kansas senator, Bob Dole, even gave Loren a call to wish him a happy birthday.
The only time in his life when Loren left his home town of Winfield was to serve in the US Air Force during World War Two, the CNBC reports.
In honour of Loren's 103rd birthday and in commemoration of his time with the US Air Force, Loren's employer, Wal-Mart has made a donation to the Friends of the National World War Two Memorial of $125,000.
Loren said that he appreciates every day and has been lucky to grow to such a ripe old age. But he reiterated that he just and every day, normal kind of guy.