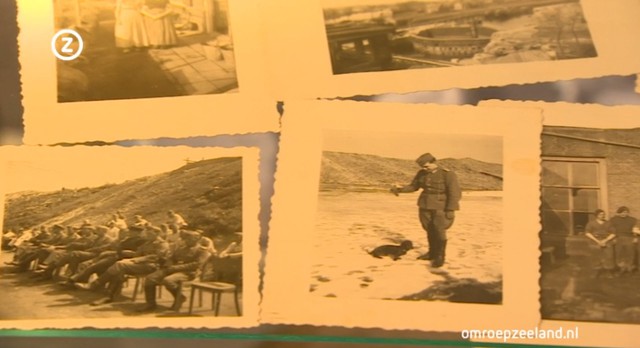 World War Two photographs of German soldiers and a camera have been discovered revealing German troops relaxing whilst on duty in Europe.
The photographs show German troops standing in front of a bomb shelter and bunker on the Dutch island of Walcheren. They have now been put on display in the Netherlands.
The camera with which the photographs were taken was discovered by British Royal Marine Arthur Thompson, when he was serving in the Armed Forces to liberate Europe from the Nazis.
Arthur says he found the camera towards the end of 1944 as he and the rest of the Allied troops were making their way across the Netherlands. He says the camera must have been left behind when German troops deserted their post as Allied troops neared their position.
The photographs showed German troops relaxing, resting and enjoying themselves when off-duty. But once Arthur had acquired the camera, he also took his own photographs of British troops.
Arthur actually died two years ago at the age of 89, but said that he wanted the photographs to be returned to the Netherlands and be put on display near where they were found to document the Nazi invasion of Europe.
Researchers have found that the bunker where the photographs were taken was part of the Nazi's Atlantic Wall defences which stretched from the south of France through to the north of the Dutch coast line.
Arthur was just 21 years old when he served with the 47 Royal Marine Commandos and took part in the D-Day landings. After the initial invasion his division was sent to the small Dutch island to ensure that the Belgian port of Antwerp could be held by the Allies and to continue the liberation of the Netherlands.
Arthur had told relatives that he and his fellow troops had discovered the bunker and searched through it. He found the camera and said that there were a few pictures left so he took the last ones of his own comrades.
Arthur kept hold of the camera until he returned to England at the end of his service, when he was then able to have the photographs developed and has kept them ever since. His daughter, Claire, says that she remembers the camera and photographs being around when she was growing up and have always been part of her family's belongings, the BBC News reports.
The camera and photographs have been donated to the Polderhuis Museum in the Westkapelle region of the Netherlands.