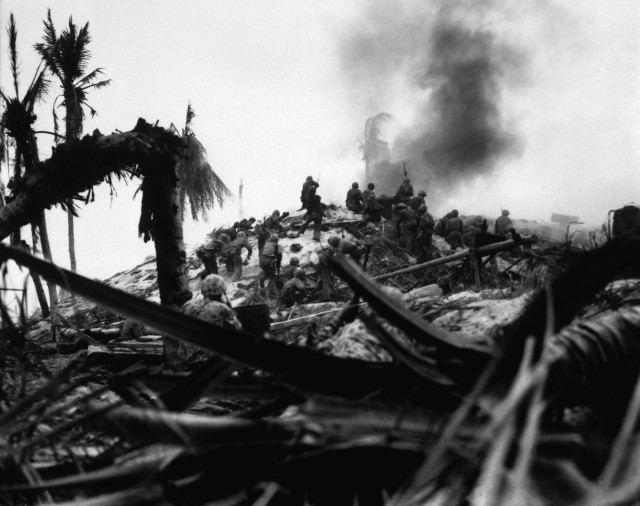 [Via]
A World War Two grave site of a lost soldier has been recovered in the Pacific. First Lieutenant Alex Bonnyman was a marine in the US army and was killed during the Battle of Tarawa. His remains and whereabouts remained unknown for more than 70 years, but his grave was found this year.
The Battle of Tarawa was part of the US offensive against Japanese occupation in the Pacific. Alex's body was found on the island of Betio, by his grandson Clay whose family had been searching for Alex's body since he died.
When excavators uncovered the remains the first thing they noticed were the gold fillings in the teeth. Now the family is having his remains returned to the US so that he can have a full military funeral.
When the Japanese attacked Pearl Harbour Alex decided to enlist in the army to join the fight against fascism. Alex had previously been in the army but had left and decided to return at the age of 31.
After training and being posted out to the Pacific, Alex and his regiment were sent to invade Tarawa Atoll. By this time, Alex was an officer in the Second Battalion, Eighth Marines. The battle for the island began in November 1943 and Alex and his regiment made their way across the island taking out many Japanese positions.
Alex made an attack on a Japanese defensive stronghold with 150 Japanese soldiers inside. The assault included grenades and explosives forcing the Japanese to evacuate their position and ensured the marines could shoot them all. However several Japanese made a counter-attack and Alex was killed. The remainder of the regiment took out the remaining Japanese and continued their invasion, which by the 1st December had been completed.
Alex's family who were living in Knoxville, Tennessee, were given the sad news that he had been killed in action a few weeks later. Alex left behind his wife and daughter of just 12 years old.
Alex was awarded the Medal of Honor for his bravery and his family went to Washington to receive the medal on Alex's behalf. But even then they did not know exactly where Alex had been killed. Meanwhile those killed in action on the Pacific islands were buried in mass graves, The Washington Post reports.
Alex's parents as well as his wife and daughter researched for years to try to discover his body. The family gave up and had a headstone inscribed with the words that he had been buried at sea.
It was in 2009 when the US military and a charity called History Flight sent out a research party to try to identify the remains of those lost during the war that Clay, Alex's grandson got involved. They found hundreds of bodies, identified them and repatriated many. It was this year that finally the charity located Alex's remains.