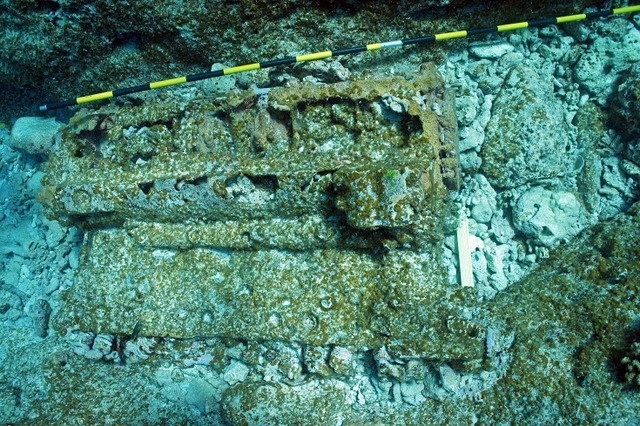 The remains of a sunken World War Two fighter plane known as P-40K Warhawk was uncovered by the Maritime archaeologists that were working with the National Oceanic and Atmospheric Administration's (NOAA) Office of National Marine Sanctuaries and the United States Fish and Wildlife Service. The discovery was made while a research was being conducted by theMarine National Monument team aboard NOAA's ship Hiialakai.
The plane's remains were found not too far away from the Midway Atoll National Wildlife Refuge and the Battle of Midway National Memorial.
Speaking about their exciting discovery, Kelly Gleason, the Coordinator of Monument Maritime Heritage said it was a reminder of what is left on the Midway Atoll seafloor after the battle.He said aircrafts such as the P-40K Warhawk that was buried deep down in the water shows the kind of sacrifice the young service men made in the Pacific while fighting World War Two battles.
The battle of midway is one of the most important World War Two naval combats fought by the Americans who defeated the Japanese Imperial Navy by inflicting permanent damage on the Japanese fleet. The battle was fought six month after the Japanese attack on Pearl Harbor.
Speaking about Archaeology, Kelly saidit is interesting because with that, they are able to dig up the stories behind the struggle and courage of the men that fought the battles. According to him, before they go on locations, several years of conducting interviews with eyewitnesses and studying archives must have taken place.
By conducting additional researches, the maritime heritage team discovered the plane that was buried in the sea is actually part of the 78th Fighter Squadron used by the United States Army Air Forces (USAAF) at the time.The aircraft made aviation history because it is the only land-based airplane that was made to fly a very long distance across the sea with the help of a single engine, the West Hawaii Today reports.
Between January 23 and April 21 of 1943, the squadron was positioned at Midway where its job was to defend the island, its military base, its defences as well as the maritime and communications division against attacks from its enemies as World War Two was ongoing.
There are likely about 60 wrecked ship sites as well as about 70 aircraft buried that may have been under the sea according to the Marine National Monument records. Of these, 22 of them have been found and archived.  The P-40K Warhawk is the fourth World War Two aircraft to have been discovered by the Monument.
Currently, further researches are being conducted about the findings, but so far, measured sketches and photographs of a preliminary site map have been taken and documented.