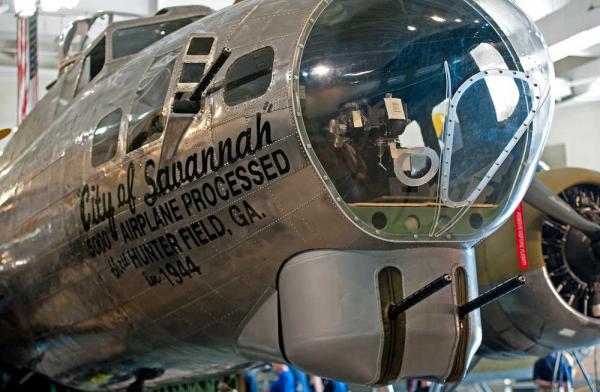 A B-17 Flying Fortress bomber that was flown during World War Two has been restored to its original glory and was unveiled at the National Museum of the Mighty Eighth Air Force in Pooler, Georgia. It stands as the focal point in the museum's Combat Gallery.
The renovations took around six years to complete and involved more than 200 volunteers. The bomber has been renamed the 'City of Savannah', in remembrance of the 5000th bomber aircraft to be administered into service at Savannah's Hunter Field Airfield during World War Two.
The aircraft arrived at the museum at the beginning of 2009 in pieces from where it had been housed in Washington D.C. at the Smithsonian's National Air and Space Museum.
The renovations should actually have taken a lot longer, but people were so enthusiastic about the project including experts from the National Guard and aerospace organisations, plus hundreds of volunteers, that the process time was almost halved.
The entire renovations team wanted to recreate the aircraft to its original and finest glory, doing the best job possible. They went on a huge search to find original B-17 parts and built other elements from scratch if they couldn't find the originals.
Now complete, the B-17 has three operational gun turrets, one on the underbelly, one at the front and one at the rear of the plane. This is now the only fully functional B-17 in the world, the Savannah Now reports.
The museum is dedicated to the Mighty Eighth Air Force which was conceived and established soon after Pearl Harbour was attacked by the Japanese in December 1941. The command is still operational today, with Major General Scott Vander Hamm commanding it. He attended the unveiling ceremony on behalf of his men and gave a speech in which he said that they are dedicated to honouring the legacy of the men who have served before them.
The unit is today based at Barksdale Air Force Base in Louisiana, where they fly B-52 and B-2 bombers.
Vander Hamm said that the renovated B-17 is a permanent memorial to those who have served or given their lives with the Mighty Eighth Air Force. Veterans from the past who attended the ceremony included 90 year old Sam Smith who was a pilot on a B-17 and 93 year old Bud Porter who was a gunner on a B-17. Both served during World War Two.
More than 12,500 B-17s were built between 1935 and 1945, with around 4,500 lost on missions. Today only 50 B-17s remain intact and only around 12 can still be flown.