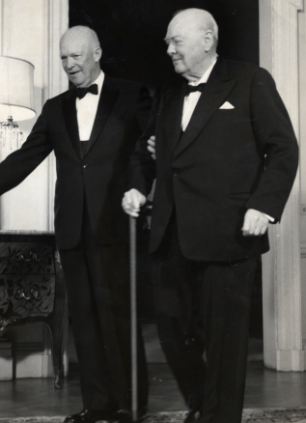 New images of a post-World War Two leaders' reunion have emerged to show the Allies in a more relaxed and calm manner.
The photographs are black and white images of a reunion of the leaders held at the US ambassador, John Hay Whitney's residence in London at the end of the 1950s.
Attendees included war time British Prime Minister Winston Churchill, US President Dwight Eisenhower, the then current British Prime Minister Harold Macmillan, Viscount Montgomery, Viscount Charles Portal, First Baron Arthur Tedder, 1st Earl Harold Alexander and Lieutenant General Brian Horrocks.
The reunion was held on the 20th anniversary of the Nazis' invasion of Poland.
In one image, Winston Churchill, who was by then 84 years old, is thought to be so relaxed that he is falling asleep. It is believed that Lord Alan Brooke, who was also in attendance, gave Churchill a nudge to wake up, while none of the others seemed to notice.
The reunion was significant for Eisenhower and Montgomery, since both led their respective country's military campaigns during the war and it was well known that they had clashed many times over military strategy.
To fuel the fire only a year before the reunion, Montgomery had published his memoirs in which he publicly attacked Eisenhower's military leadership.
The set of 22 official photographs were taken by the US president's official photographer Paul Begley, the Mail Online reports.
The prints are now owned by Mr Begley's family and are being put up for auction in Boston, US.
It is thought that they will fetch around $2,500.