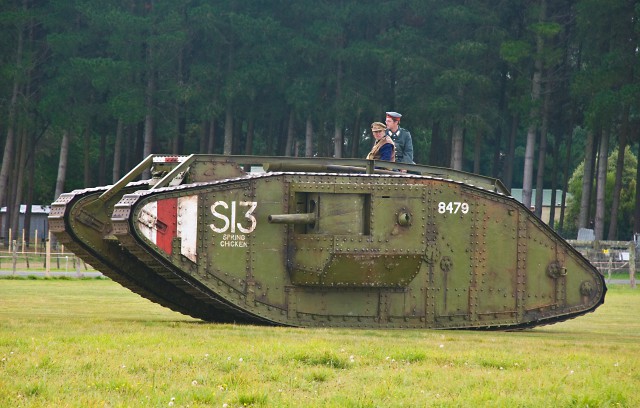 [Via]
A life-size copy of a World War One tank has made its way to Arbeia Roman Fort in South Shields, near Newcastle in the north of England.
It is just over 100 years since World War One began and the town of South Shields raised money to help the war effort. The town raised enough money to fund the production of one tank, and now a replica of that tank has returned to South Shields.
When the tanks were first produced they were leading edge technology and the first of their kind in the military.
School children from the local Marine Park Primary School and Hadrian Primary School were the first to visit the tank which has been stationed at the Arbeia Roman Fort. The fort is an ancient Roman fort built in around 120AD. It is mainly a ruined site but has now been partially reconstructed and is managed by a local museum.
When South Shields was asked to raise money for the tank during the war, they raised so much that when the war ended the town was awarded with one of the tanks so that it could make a display and memorial.
The replica tank has provided an opportunity to educate the younger generation about the war and for older residents to relive some of their war memories.
The replica tank was given to the town by the 'Lest We Forget' charity and was positioned within the fort. The charity provided the tank as part of commemorations on Armed Forces Day in June. Events have taken place across the UK to honour those in the Armed Forces, both past and present. The tank was joined by other military vehicles and vehicles from both World War One and Two including motorbikes, bikes and cars.
Tanks were first used during World War One during the Battle of the Somme in 1916. The first tank model used by the British military was the Mark I. More than 2500 tanks operated during World War One and they made a real difference to the ground troops, the Chronicle Live reports.
They were so successful and the British public became enamoured with the tank that the government took a group of six tanks on a national tour and public relations drive during the war.
It was a tank named 'Nelson' which was given to the town of South Shields in 1918 and was placed outside of the town hall for all the locals to see what their funds had paid for.