A Sopwith Pup aircraft used during World War One has been put on display as part of the centenary celebrations of the Great War.
The Sopwith Pup B1807 was a night time fighter plane and is the only aircraft of its type left in the world. It has been put on display for one month at Tyntesfield, near Bristol, in the west of England.
The aircraft flew as part of the Royal Flying Corps (RFC), which later became the Royal Air Force (RAF).
The Sopwith was designed and built by the company of the same name, and were used in great number on the Western Front of World War One.
More than 1750 of the planes were built and some of them were produced by the Standard Motor Company.
The Sopwith Pup that has gone on display is marked with the serial number B1807 and is from a batch of around 150 that were manufactured in 1917. The last remaining aircraft is listed on the Civil Register as the G-EAVX in 1920.
The last Sopwith Pup to survive first flew with 112 Home Defence Squadron based in Kent. It took part in missions to fight off the German fleet of sea planes. After serving with the squadron she was taken on by Wing Commander Rickards, based in Gloucestershire where she took part in air attacks over the Middle East.
After the war, the Sopwith was taken on by civilian aviators and was involved in a crash in the early 1920s at an Aerial Derby over Hendon.
Her pilot and owner Lester Forestier-Walker escaped unhurt, but the aircraft was placed in storage for two years, after which it was moved to Dorset and was left for 50 years without being maintained or flown. It was in 1972 that an aviation enthusiast discovered her. Kelvyne Baker knew how important the Sopwith was to British aviation, so he decided to bring her back to original condition, BT.com reports.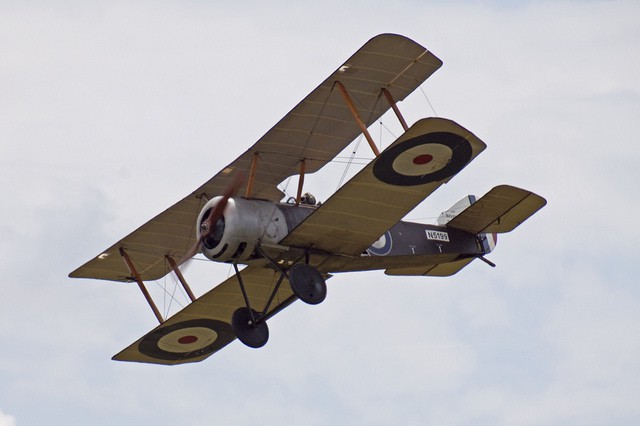 A Flying Sopwith Pup via Flickr
Having been stored in a barn for the majority of time, the Sopwith was still in relatively good condition and still had its complete fuselage, along with original fittings and working night-flying instruments, which still lit up.
So far more than £60,000 has been spent on the renovations. If Mr Baker can find additional investment he is hoping to get the aircraft back in the air as well.