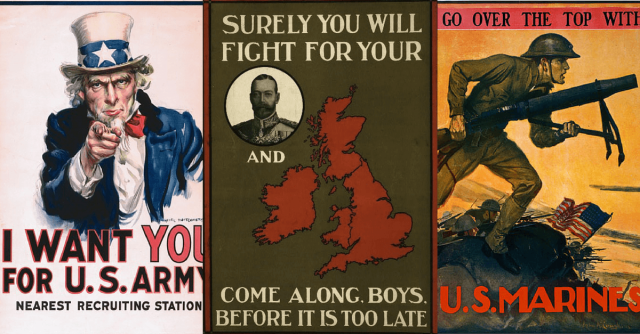 A large poster collection of World War One government propaganda is to be sold by auction. The collection was started by a US Army officer during World War One. He managed to collect over 2,000 of the posters from all over the world. The posters were used by governments to encourage men to sign up to the armed forces, as well as for educational purposes or to boost morale back home.
The posters are going to be sold by a US auction house called Guernsey's. It is thought that the collection is the biggest and best well-kept in history. The officer collected the posters over a period of around 10 years.
The posters will be sold off over a two day auction at the end of June and will take place online. The prices have no minimum bids and no reserves.
The posters are originals and feature some iconic images and characters including Uncle Sam with a top hat declaring that the US Army wants volunteers to enlist.
Another poster portrays the US stars and stripes flag with a group of labourers hard at work with a caption declaring that teamwork is the way to go.
Another example is a poster of a French woman cleaning army uniforms and says that France has already been fighting for four years.
The auction house says that it is the best collection they've ever come across, particularly since the posters come from all over the world, not just the US.They are expecting the posters to make anywhere between US$200 and $5000 each. In addition to encouraging men to enlist, the posters cover fundraising for the war effort to rationing and the role of women during the war.
The collection was started by Edward McCrahon from New York. He joined the French army before America even joined the fight during World War One and began his collection whilst serving, The Guardian reports.
Edward continued pursuing his collection when he returned to the US. Around half of the posters are from the United States, whilst others come from over 15 different countries and feature in local languages. Some come from France, others come from Italy, Asia and even Cuba.
Famous illustrators from the early 1900s were given the task to create the images and Edward's collection makes up of some of the only remaining copies known to still exist. The biggest poster is around 3 metres by 4.5 metres.
Once Edward had made his collection bigger, he took it on a tour of the US and put on exhibitions to show them during the 1930s. The collection has remained in Edward's family, but they have now decided to sell it off.