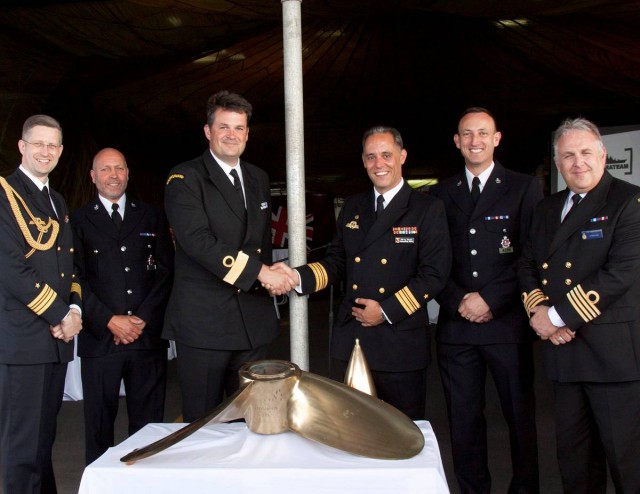 The propeller from the first German U-Boat to have been sunk by the British during World War One has been returned to the German Navy in a commemorative ceremony.
The U-8 propeller is made of brass and has been at the bottom of the English Channel for the last 100 years. The propeller belonged to a German U-8 submarine and was salvaged from a batch of military wreckage that had been looted from the English Channel. The police seized the illegal haul of wreckage and distributed it to various naval organisations in 2014. The propeller was given to the UK Maritime and Coastguard Agency.
Now the propeller has been returned to the German Navy in a commemorative ceremony which took place at sea and was given to the German Naval ship the Karlsruhe at Portsmouth.
The Maritime and Coastguard Agency said that times have changed and that they are glad to be able to return the propeller to the German nation. They said it commemorated all of those who lost their lives during the Great War, but also signified the great steps both countries had made to reconcile over the years.
Germany's naval representative said that the propeller is more than just naval wreckage, but represents the much improved relationship between England and Germany.
Meanwhile back in Kent the local police say that they are pleased that the artefact has been returned to its rightful owner, but that looting of military naval vessels is an ongoing problem for them. They stated that anyone found to be stealing or suspected of stealing from wrecks will be prosecuted, the Maritime Professional reports.
During World War One, the German submarine U-8 successfully destroyed around five British supply ships on their way to deliver supplies to England. However by spring 1915 she had herself been destroyed by the Allies and sank in the English Channel. No German crew were lost when she sunk, and four officers and 25 crew men were held as prisoners of war.
Image via maritimeprofessional.com