The gravestone of a Nazi tank commander has been stolen from a war cemetery in France. SS commander Michael Wittmann was buried in the La Cambe German war cemetery near Bayeux in northern France.
Local police are investigating the theft and believe that it could have been taken by a new-Nazi group.
The cemetery is managed by the German War Graves Commission and has more than 20,000 war graves at the site. The Commission has said that the gravestone will be replaced out of respect to the dead. Until the gravestone has been replaced a temporary marker has been placed on Wittmann's grave.
SS-Hauptsturmfuhrer, Michael Wittmann was one of the most revered and feared Panzer commanders. Records state that Wittmann was responsible for destroying almost 140 Allied tanks and around 130 Allied anti-tank guns. These numbers would make him the highest scoring Panzer leader.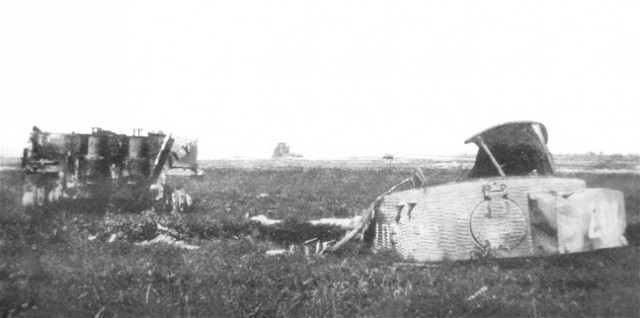 Photograph of the wrecked Tiger 007, taken by French civilian Serge Varin in 1945, still in the field near Gaumesnil where it had been stopped a year before. Via Wikipedia
Wittmann's most famous battle occurred in June of 1944, when he led a surprise attack on the British Army's 7th Armoured Division during the Battle of Villers-Bocage. The battle took place just a week after the D-Day Landings in Normandy, as British troops tried to advance from their coastal position to the inland city of Caen. On the first attempt the British were stopped in their tracks, but they later took the city as Allied forces ensured German troops and tanks were stretched throughout France, The Times reports.
Wittmann is well-known for his role in the Villers-Bocage battle to repel the British onslaught and during the attack it is said that he destroyed 14 British tanks and 15 military vehicles, as well as two gun positions, with his Tiger I tank alone and within the space of about 15 minutes.
[Via]
Wittmann was later killed in the battle and the responsibility is said to lie with gunner Joe Ekins from the First Northamptonshire Yeomanry in a Sherman Firefly tank. Joe destroyed the Tiger tank Wittmann was in, killing everyone onboard.
Prior to the battle Wittmann was already a celebrated commander and had been awarded the Knight's Cross, the highest German medal of honour, by Adolf Hitler.