Adolf Hitler may have been able to convince millions of his twisted ideologies, but he was unable to get members of his own family on the side, as was the case with William Stuart-Houston, a man who started life with the name William Patrick Hitler. William was Hitler's nephew and actually fought against the Axis during WWII.
Hitler's family history, in general, is fascinating, complex, and full of uncertainties, but William's actions were an ironic twist.
William Patrick Hitler
William was born in Liverpool on 12 March 1911 to Hitler's half-brother Alois Jr. and his Irish wife, Bridget Dowling. Alois Jr. moved away from his family in Austria after a particularly serious argument with his and Adolf's father, Alois Hitler. Alois Jr. and Bridget lived in a flat at 102 Upper Stanhope Street; a building that was later destroyed by German bombing.
After marrying Bridget in 1910 and having William, Alois Jr. left his family and moved to Germany in 1914, where he married another woman (this was an illegal marriage, and he was eventually charged with bigamy).
In 1929 when William was 18 he traveled to Germany and reunited with his father and attended a Nazi rally. Over the course of a few more visits, William and Adolf's relationship broke down as William made demands. He published a few articles on Adolf, which affected his public image and damaged their relationship even further. He went back to the UK but as he was now publicly known as Adolf's half-nephew, he was fired from his job.
He went back to Germany in 1933 to capitalize on Adolf's rising fame. Adolf gave William a number of decent jobs, but unsatisfied, William threatened his half-uncle that unless he was given a better job, he would release family secrets.
He continued to blackmail Adolf until he finally made him an offer for a high-ranking position, but only if William gave up his British citizenship. William declined this offer and moved back to England.
While here he tried to join the British military but they unsurprisingly did not want a close relative of Hitler in their ranks.
With both Germany and England a no-go, William tried the US.
US Navy service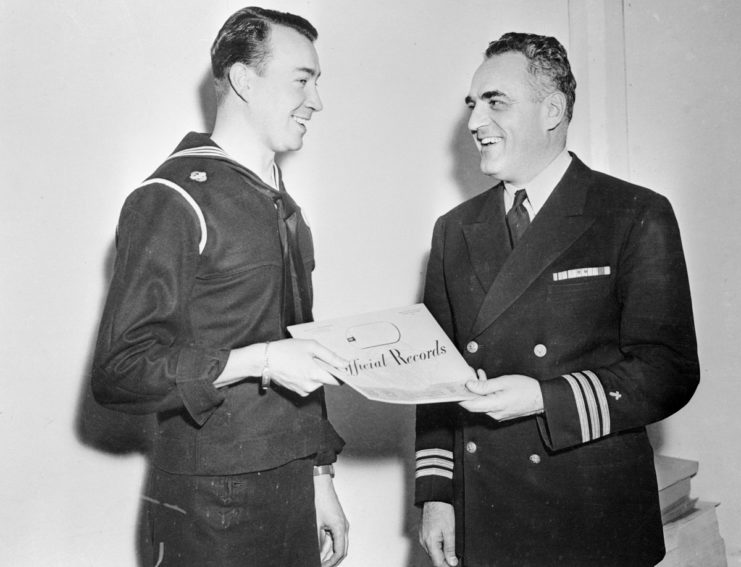 He traveled to the United States with his mother and attempted to join the US Navy, but his experience with the British armed forces was repeated and William was rejected. He wrote a letter to US President Franklin D. Roosevelt with a special request and moved to the Sunnyside neighborhood of Queens, New York. After an intense background check by the FBI, he was cleared to join the Navy.
He served in the Navy as a Pharmacist's Mate and was wounded in action, allegedly earning the Purple Heart, although recent investigations have been unable to find any record of the medal being awarded to him.
William remained in the Navy until 1947 when he was discharged. After the extent of Adolf Hitler's horrific actions during the war became public knowledge William finally gave in and changed his name to Stuart-Houston. He married Phyllis Jean-Jacques, a German-born woman, and the pair had four sons. William, his wife, mother, and children lived a quiet life in America. He ran a blood lab in his home and was known to be a quiet man.
Marilyn Banaszak's mother-in-law lived next door to William and his family – she said he "wasn't all that friendly" and his wife "would never tell you anything personal."
However, Teresa Ryther who lived close by said the four children were "like any other kids on the block, American kids," adding that "It was almost as if they were rebelling against their German background and being intensely American."
His neighbors were not aware of William's background but interestingly had noticed his resemblance to Adolf. Ryther's father often commented on the similarities: "My father used to say to my mother, 'Doesn't Patty look a lot like Adolf Hitler?'" She said.
"Once, my father told my mom, 'I just saw Patty mowing the lawn, and he turned around real quick and, my God, he looked exactly like Hitler.'" Ryther recalls.
William passed away in 1987 at the age of 76. Reportedly, he is buried with his mother in New York in graves marked "Stuart-Houston."