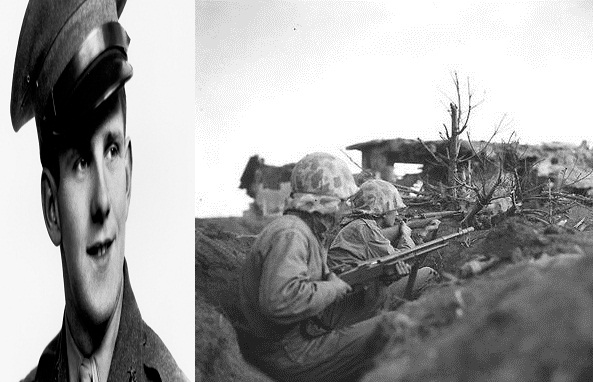 What set William Caddy from the rest of the American soldiers who fought during WWII? He gave up his life for his comrades by throwing himself on a grenade during the Battle of Iwo Jima.
One of the most lasting pictures captured ever in war history was taken a few days into the Battle of Iwo Jima — the raising of the American flag by four marines and one Navy corpsman on top of the island's Mount Suribachi.
However, it took the Americans another month to fully take on the island from the Japanese and they had to do it yard by yard. The victory was hard-earned, too, as many lives were lost along the way. Lt. Gen. Holland M. "Howling Mad" Smith, the Pacific Marine commander, even called it the "toughest fight in US Marine history".
Among the 70,000 American soldiers involved in the battle at Iwo Jima was Pfc. William Caddy who was 19 years old at that time.
"He was kind of an all-American boy. He wasn't, someone said, a great student. But he was a good athlete and he loved baseball. He would hide his things in the shrubs around the house and then after he was supposed to be in school he would go practice his baseball," Marcia Morse, his niece, recounted.
The story about William Caddy's heroism during the battle is well-known in Quincy and has been a source of pride by his nieces – Morse and her sister, Sherri Holleran.
Holleran remembered that her uncle had lived during hard times. It was the Depression. However, as he wanted so much to do something for the country, he left his job as a horse-riding milk delivery man around Quincy and enlisted to be a Marine.
He was then deployed to Iwo Jima after his training. Twelve days into the war, William Caddy along with two Marines found themselves pinned into a foxhole fighting a Japanese sniper as they were advancing in an isolated area in the island.
When a grenade fell into the foxhole, Caddy covered it up with his own body saving the two Marines who were with him when it exploded.
However, William Caddy died instantly.
According to Morse, one of the men her uncle saved, Otto Farris, went on to serve his country for years fighting in three wars – WWII, Korean War and Vietnam War. He also became a highly decorated serviceman.
In 1946, President Harry Truman gave a posthumous award to William Caddy, the Medal of Honor, the highest award given to any American soldier.
Part of the citation reads:
"Stouthearted and indomitable, he gallantly gave his life for his country."
Treasure Island Park along Quincy Shore Drive, William Caddy's hometown, was renamed in his honor — Pfc. William R. Caddy Memorial Park.
Every year, a wreath to commemorate William Caddy's death was placed in the park. Morse and Holleran's mother never missed it.
"She went every year she was alive. Never missed it. It was bitingly cold on the beach there and she was so proud. She told anybody. Anybody that would listen she would tell them the story," Holleran said.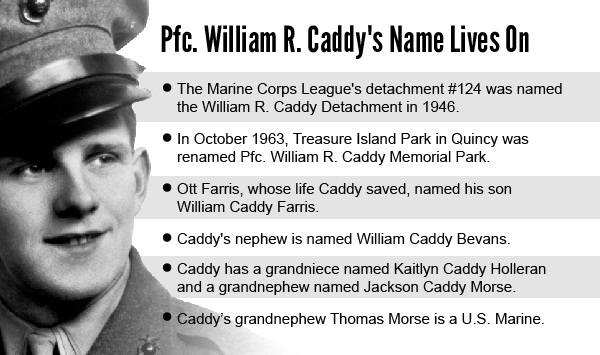 In celebration of the battle's 69th year anniversay, let us remember the likes of William Caddy – one of the 6,800 American soldiers who lost their lives in the Battle of Iwo Jima.