Polish toy maker Cobi Toys adamantly refuses to pull out its Nazi-themed toys from store shelves claiming that making the dolls and games available to children teach them history in a "fun" way.
According to Robert Podles, CEO of Cobi Toys, the company believes that children not only get good fun out of playing with the toys they are making, they are also getting history lessons from these trinkets they are playing with. In this line, the Cobi Toys CEO went on, they will continue the line in the future.
Mr. Podles further pointed out that Nazism is not separate from history, but rather, a part of it. He went on to claim that European history had, during the Second World War, gorged in Nazism and that fact is inevitable.
Cobi Toys sells Nazi-themed toys which include Nazi tanks, soldiers as well as other military items. In addition to this line, the company also sells American, British and Soviet toys.
The statement released by Cobi Toys come just after a department store in Sweden, the Gekås in Ullared, decided to stop stocking and selling the Nazi-inspired playthings the company is making. In his explanation about the store's decision, Gekås CEO Boris Lennerhov said that selling the Nazi-themed baubles is not something that the store wishes to promote "as an ideal".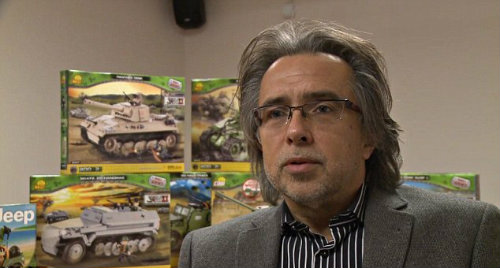 All in all, this isn't the first time that matters of such nature has come up.
Last October, Spanish clothing company Mango had to issue an apology after customers complained that the small lightning symbols one of its shirts carried looked like the emblem of the Waffen SS.
Zara, another clothing chain, faced a similar backlash over one of their shirts last August. They were forced to pull out a sheriff jersey with a star badge they manufactured over complaints that it looked like concentration camp uniform.