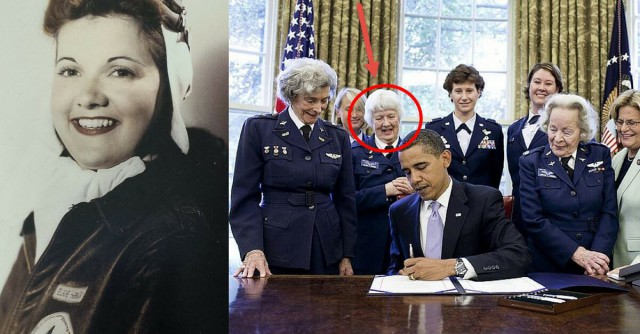 The first women pilots' organisation – called the Air Transport Auxiliary (ATA) was set up in Britain, early in 1940. The idea behind the service was that women would fly aircraft in a non-combat role, releasing male pilots for combat missions.  The female pilots flew Spitfires, Typhoons, and several other military aircraft on non-combat missions for the Royal Air Force.
Two American women, Jacqueline Cochran and Nancy Harkness Love, made independent proposals for a similar service to the USAAF in 1941, but both of them were turned down. Cochran subsequently went to Britain, where she and other American women flew for the ATA, becoming the first American females to fly military aircraft.
The US Women's Flying Training Detachment (WFTD) and the Women's Auxiliary Ferrying Squadron (WAFS), had existed since 1942. In 1943, the two services were amalgamated into one – the Women Air Force Service Pilots – known as the WASP. Assigned to 120 air bases throughout the United States, the US army-trained pilots delivered new aircraft from manufacturers to their new bases, delivered cargo consignments, and towed targets for gunnery training centres.
There were 1076 WASP pilots, and between 1943 and the end of the war in September 1945, they had delivered over 12,500 planes. Thirty-eight women lost their lives in the service, twenty-seven of them on active duty, but they received no military honours at their funerals; the USAAF did not recognise WASPs as military pilots and forbade the placing of the American flag on their coffins.
In 1977, the WASPs were finally granted military status, and in 2002 permission was given for their ashes to be placed in the Arlington National cemetery. In 2015, the Secretary of the army, John McHugh, rescinded that permission, meaning that Terry Harmon, of Silver Spring, Maryland could not place her mother's ashes at Arlington.
Elaine Harmon, who died aged 95, was a WASP pilot who lead the original struggle to gain military recognition for the WASPs.
Terry Harmon says her mother's ashes will remain at her home until such time as they can go to Arlington. She believes that her mother had a right to expect no less.
The WASP received a Congressional gold medal in 2009, and at the ceremony, President Obama said of the Wasp "Every American should be grateful for their service, and I am honoured to sign this bill to finally give them some of the hard-earned recognition they deserve"
Terry's fight for her mother's place at Arlington continues.