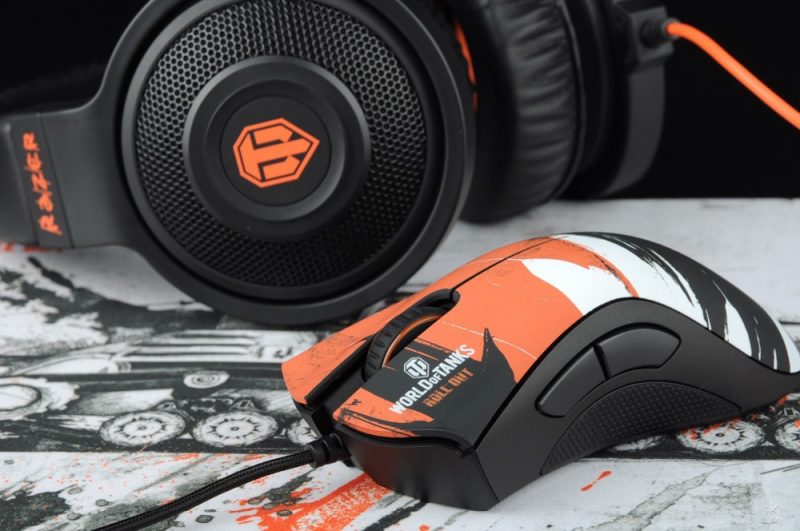 Wargaming today announced the new advancements to Wargaming.net League tournament gameplay. Beginning next season, the battle format of the League will become more accessible and captivating by implementing an all new Attack/Defense mode. This mode has been thoroughly tested and approved by professional World of Tanks players, and being specifically built off their feedback, will completely change the way tournament battles unfold.
Wargaming wants more players to have the best gaming experience. They have joined up with Razer and unveiled a new line-up of gaming peripherals for World of Tanks, featuring a customized Razer DeathAdder mouse, Razer Kraken headset World of Tanks Edition, World of Tanks Razer Goliathus mouse mat combo stylized with design elements from Wargaming's tank MMO action game.
The custom-designed Razer mouse will feature the well-known DeathAdder ergonomic design, replete with an aggressively orange illuminated World of Tanks logo. Virtual tank commanders will be able to pair the premium gaming device with a World of Tanks Razer Goliathus mouse mat, designed to provide the required surface for steady aim. Razer Kraken Pro is outfitted with a fully retractable microphone, and powerful high-quality drivers that let you totally immerse yourself in gaming audio for hours on end.
Wargaming new mode to making Esports more exciting is the Attack/Defense which sets precise goals for competing teams. One team works to defend two bases while the other team seeks to capture those bases, removing the option of a match ending in a draw. Conceptualized in cooperation with professional gamers, Attack/Defense battle format encourages teams to be proactive and makes each match exciting to watch.
Beginning next season all Wargaming.net League regions will implement the new mode, giving players the current season to master the new additions before the upcoming Grand Finals.
For more information on the new tournament setup and the Wargaming.net League please visit: Wargaming.net League Introduces New Tournament Features
We're giving away one World of Tanks – Razen pack!
To enter:
1) Hit Like
2) Tag a friend
3) Verify your entry at: WHO & World of Tanks Competition

The World of Tanks – Razen pack consists of:
– Razer Kraken headset World of Tanks Edition
– Razer Goliathus Gaming Mousepad (Speed edition) World of Tanks Edition
– Razer DeathAdder World of Tanks Edition
– Pz.Kpfw.IV Hydraulic
– 2000 Gold 10 premium World of Tanks
One winner will be randomly selected at 7PM UTC on December 11th and will be notified via email & Facebook
For more information about the World of Tanks Razer Kraken Pro, please visit:
www.razerzone.com
About World of Tanks
World of Tanks is the first and only team-based, massively multiplayer online action game dedicated to armored warfare. Throw yourself into the epic tank battles of World War II with other steel cowboys all over the world. Your arsenal includes over 300 armored vehicles from United States, Germany, the Soviet Union, France, Great Britain, Japan and China, carefully detailed with historical accuracy.
Wargaming is an award-winning online game developer and publisher and one of the leaders in the free-to-play MMO market. Founded as a privately held company in 1998, Wargaming has shipped more than 15 titles. Currently, Wargaming is focused on its team-based MMO war series dedicated to the mid-20th century warfare that will include the armored World of Tanks, the flight combat World of Warplanes, and the naval World of Warships. The three intertwined titles will form a common gaming universe integrated within the portal www.wargaming.net.
About Razer
Razer™ is the world leader in devices and software platforms that enable, connect and entertain a worldwide community of electronic entertainment enthusiasts, 24/7.
With a rich history in gaming, music and design, Razer's award-winning technology includes voice-over IP and other social applications and devices; programs for music production, performance and enjoyment; cloud-based solutions for customizing and enhancing computer systems and related product performance; and a wide array of groundbreaking laptops, tablets, audio products, hardware and accessories, and apparel.
Razer applies its design and engineering resources to develop products that support the on-the-go lifestyle inherent to its contemporary, global, technophile community, fulfilling their immediate wants and needs wherever they are. At Razer, everything it does resonates with the company credo: For Gamers. By Gamers.™
For more information, please visit: www.razerzone.com