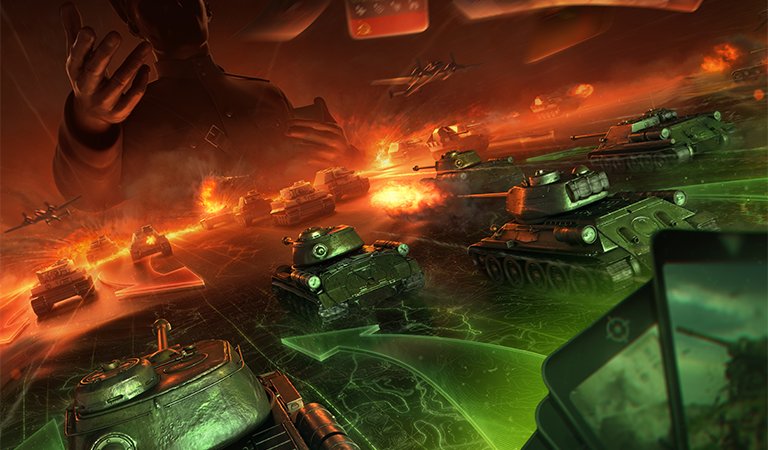 Players can enlist to get early access to the new free-to-play game.
February 16, 2015 — Wargaming announced today that the World of Tanks Generals Closed Beta Test is open to applications, inviting players to try out this new online collectible card game.
During the test, World of Tanks Generals will be available through web browsers, with versions for Android and iOS to be added in the future.
"Our main goal with Closed Beta is to evolve the game into the incredible experience we're aiming for," said Andrey Zimenko, Director of Global Operations, World of Tanks Generals. "We've put a lot of effort into the game and are looking forward to seeing how testers like the current version, as well as hear their ideas and suggestions about the game's future."
World of Tanks Generals offers a PvP mode and PvE training battles, allowing players to master the game's basics, build a number of decks, tailor strategies and unlock the cards that suit their playstyle.
Included in the Closed Beta test are over 200 unique cards split between three factions—the USA, Germany and the USSR—and divided into several types. With an army of cards and a host of strategies available, every battle is an intense skirmish of sudden strikes, tactical trickery and dynamic dueling where you must adapt to survive.
The game will utilize the unified Wargaming.net ID that provides instant access to other Wargaming titles, including World of Tanks, World of Tanks Blitz, World of Warplanes and World of Warships.
For more information about World of Tanks Generals and to sign up for the testing, please visit its official website:
www.wotgenerals.eu (Europe)
www.wotgenerals.com (North America)
www.wotgenerals.asia (Asia)
About World of Tanks Generals
World of Tanks Generals is a free-to-play, turn-based collectible card game featuring epic World War II warfare. With numerous cards available, each battle turns into an intense combination of sudden strikes, massive onslaughts and cunning tactical trickery in highly dynamic 1-on-1 online combat.
Based on your own unique playing style, construct a deck from over 200 unique cards and crush your enemies. Cards are split between three factions (USA, Germany and USSR) and include headquarters, tanks, artillery, orders and squads, as well as special bonus cards that grant additional firepower or defenses, adding an extra dimension of strategy to gameplay.
Available through your browser, World of Tanks Generals doesn't require the installation of a game client. As long as your device has an internet connection, the battle will always be at your fingertips. In the future, the game will be available for iOS and Android devices.
About Wargaming
Wargaming is an award-winning online game developer and publisher and one of the leaders in the free-to-play MMO market. Founded as a privately held company in 1998, Wargaming has shipped more than 15 titles. Currently, Wargaming is focused on its team-based MMO war series dedicated to the mid-20th century warfare that will include the armored World of Tanks, the flight combat World of Warplanes, and the naval World of Warships.
As part of its multiplatform line-up, the company has introduced World of Tanks: Xbox 360 Edition and World of Tanks Blitz. Launched in 2014, World of Tanks: Xbox 360 Edition introduced epic tank-on-tank battles to console gamers and the mobile MMO game World of Tanks Blitz has opened up Wargaming's trademark team-based military IP to smartphone and tablet users worldwide.
Official website:
www.wargaming.com