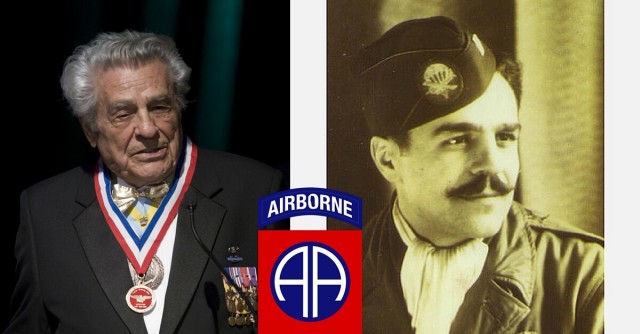 One of The United States Army's most decorated officers of WWII is still yet to be awarded the highest military recognition for his war-time heroism. One veteran has still to receive the Medal of Honor for his exceptional bravery in battle.
Lieutenant Colonel James Megellas, known as Maggie, a Greek-American, who fought selflessly and ceaselessly for his nation as an officer in the 82nd Airborne Division, is now almost 99-years old. Megellas is regarded by Americans as a living legend. He was wounded twice in combat between 1943-1945. He was wounded in the intense battle for Naples and in the landings at  Anzio.
Despite his injuries, he went on to single-handedly bring down a German Mark V tank with a hand grenade to save his men, who were under heavy fire from the tank. Not stopping there, he then jumped aboard the tank and killed the tank's crew. Knocking out a tank with a hand grenade was regarded as something remarkable. Even in a time of heroes, Megellas heroism stood out, and he earned the admiration and gratitude of his comrades.
The U.S. military expressed its appreciation and gratitude for this and Megellas's many other heroic acts by duly awarding him with two Purple Hearts, two Silver Stars, two Bronze Stars, and the Distinguished Service Cross.
The Medal of Honor is, quite rightly, considered as the most respected and prestigious reward that can be granted to war veterans that have displayed exceptional courage and heroism during combat with the enemy. The medal has only been awarded to the bravest of the brave; it has been awarded to a mere 3,500 of the 57 million military service personnel involved in active duty throughout America's history.
The reasons for Megellas not receiving his due reward are shocking. According to a White House press release, Megellas is one of many veterans who were overlooked for the Medal due to ethnicity and racial discrimination. Because of his ethnic origins, the hero had not been given the recognition he deserves.
However, in 2014 President Obama, began to redress this injustice. He and his administration has awarding 24 WWII, Korea, and Vietnam War veterans who were previously passed over for the Honor, because of their race or ethnicity.
Megellas's nomination is supported by members of The House of Representatives and the U.S. Senate, who consider it to be long overdue.  HR 2082 and S 993 are bills introduced on May 21 2015, which, in summary, request that the President should award the much-respected, retired war veteran Megellas with the Medal of Honor.