The Barnsley juggernaut rolls on with yet another series of books through their Frontline imprint which offer much while being gentle on your wallet.
Air War Archive has the potential to be as long running as it's stablemate Images of War and if the set of books we have here are anything to go by, then collectors of aviation images are in for a treat.
Chris Goss won't argue with me for saying he is a prolific author; being a safe pair of hands who knows his subject and who understands how to put a decent book together.
These four books look at facets of the Luftwaffe and all of them are brimming with a genuinely superior collection of photographs. I never claim to be expert at anything, but I've seen a few photos in my time.
These books offer up a vast amount of images I don't recall seeing previously, and this is what makes them so collectable.
We see the Focke-Wulf 200 Condor, the Bf109 on the Eastern Front, training aircraft and the early years of the Fw190. There are a number of other titles available.
The author explains his connection to the late Dr Alfred Price, a great aviation historian who passed much of his German aircraft image collection on to him before he passed away in 2017.
One of the luminaries of the Royal Air Force Museum, he wrote a genuine classic in The Hardest Day, one of the must-read Battle of Britain histories.
Dr Price built a huge archive before his passing and we are the beneficiaries through this series of books.
Let's start with the Focke-Wulf 190, that wonderful looking fighter which should need no introduction. The Fw190 represented a leap for the Germans, being largely superior to the Spitfire and causing a great deal of worry to the Allies.
The Fw190 was a pugnacious looking machine which could be a handful, illustrated by a number of training accident related images. There are number of images showing captured Fw190s and these are all very interesting.
Several landed intact in England and were put through testing regimes.
We meet a good number of pilots, including several aces, and to my mind it is these images that are the jewels in this book.
Mr Goss does not attempt to present a definitive collection here, but, make no mistake, this is a very substantial book. It sets the standard for others in the range and the reader will not be disappointed.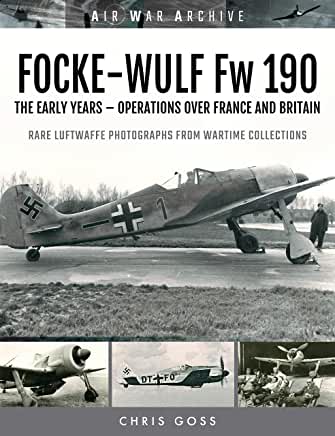 FOCKE-WULF Fw190
The Early Years – Operations in the West
By Chris Goss
Frontline
ISBN: 978 1 47389 956 8
Next up we have the Fw200 Condor, a magnificent looking aeroplane that would have been best known as an airliner if it were not for the war.
Mr Goss takes us through the operational history of the aircraft supported by some super photos. We see the aircraft performing a number of roles, introducing several leading pilots while giving something of the sheer scale of the aircraft.
There are plenty of views of Condors on operations on several fronts and the inevitable crash wrecks.
The aircraft is best known for its maritime roles in reconnaissance and performing anti-shipping missions and these are included here.
I'd venture to say the Condor has garnered a lot less coverage than other German types and while I was certainly aware of the basics, this book reveals a lot more than I expected.
The range of pictures of aircraft operating out of Mérignac in France are a case in point and there is much more besides.
It all left me feeling what a gorgeous aircraft the Fw200 was and it is a great shame that none survive.
FOCK-WULF Fw200
The Luftwaffe's Long Range Maritime Bomber
By Chris Goss
Frontline
ISBN 978 1 84832 487 9
The next volume covers the Messerschmitt Bf109 with a wide-ranging array of images showing the aircraft on all fronts between 1941 and 1945. There is a lot to pack in.
The book opens with an account of the first Bf109F to be captured intact when it came down in England in July 1941.
We see the aircraft being recovered and learn about the unfortunate pilot, Rolf Pingel, an ace who would spend the rest of the war in captivity.
There follow a huge number of interesting images showing aircraft, pilots and ground staff. Here, again, are the real treasures to be found in this book.
The aircrew shots, especially, are absolutely fascinating. The depth of information in the captions is truly impressive.
A chapter on Jabo fighter-bombers is followed by images of operations in the Mediterranean and North Africa. Safe to say the latter offers up a fair number of wrecks and captured aircraft.
The chapter on the Eastern Front is equally as enthralling as those before it. The book ends by looking at a number of captured aircraft.
This is a really impressive compendium of images.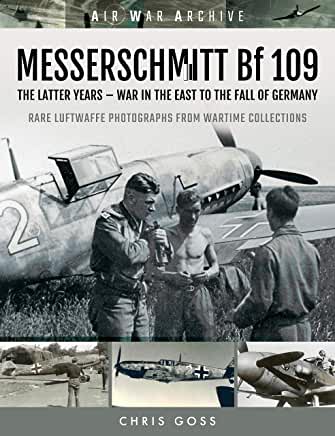 MESSERSCHMITT Bf 109
The Latter Years – War in the East to the Fall of Germany
By Chris Goss
Frontline
ISBN: 978 1 47389 948 3
Finally we see a volume looking at training aircraft, the bridesmaids of any air force, although they perform such an important role.
Mr Goss elects to treat them alphabetically, so we see separate chapters on the likes of Arado, Gotha, Henschel and Messerschmitt along with several others.
While many of the aircraft are familiar, the book throws up a number of types I'd not seen previously and, once again, the caption information is first rate.
There are some wonderful air to air shots and the book does much to fill in the back story of the Luftwaffe.
LUFTWAFFE TRAINING AIRCRAFT
The Training of Germany's Pilots and Aircrew Through Rare Archive Photographs
By Chris Goss
Frontline
ISBN: 978 1 47389 952 0
It really is impossible to pick a favourite from this superb quartet. The fighter books offer superb images of airmen who were more than just cardboard cut-outs found in the war movies and comics I knew as a lad. The Condor book is fascinating from first to last.
Another Article From Us: Teenage Sisters Who Would Seduced German Soldiers Then Shoot Them
If I am being pushed, I would say the training aircraft volume, through its variety of subjects, is probably the most intriguing. You really cannot go wrong with these books. More please.
Reviewed by Mark Barnes for War History Online.